Nepal court convicts 'Bikini killer' Charles Sobhraj of second murder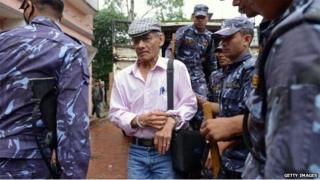 A court in Nepal has convicted a notorious alleged serial killer, Charles Sobhraj, of a second murder.
Sobhraj, a French citizen, has been sentenced to 20 years in jail for the 1975 murder in Kathmandu of Canadian tourist Laurent Carriere.
In 2004, he was sentenced to a life term in Nepal for murdering the man's American friend, Connie Jo Bronzich.
Sobhraj, who is 70, was nicknamed "the Bikini killer" because of links to two murders involving bikini-clad women.
He was linked to a string of other backpacker murders in the 1970s, and served a 20-year sentence in India for poisoning a busload of French tourists.
He was also dubbed "the Serpent" because of his ability to change identity and escape from prison.