Japan to restart whaling in 2015 despite IWC ruling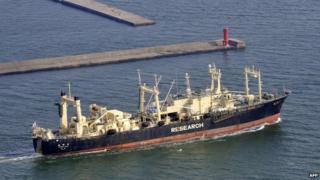 The Japanese government has vowed to restart its controversial whaling programme in the Antarctic next year.
The move comes despite the International Whaling Commission's vote on Thursday that the programme is illegal because it is not for research purposes and should stop.
Japanese Cabinet Secretary Yoshihide Suga said the IWC's decision was "regrettable".
Japan maintains its annual hunt is solely for research.
But the meat from the slaughtered whales is sold commercially in Japan.
Participants at the IWC's meeting in Slovenia passed the non-binding resolution with a 35-20 majority.
It was adopted from an International Court of Justice ruling earlier this year stating that Japan's hunt did not meet the requirements to be "scientific".
---
The Legalities of Whaling
Objection: A country formally objects to the International Whaling Commission (IWC) moratorium, declaring itself exempt. Example: Norway
Scientific: A nation issues unilateral "scientific permits"; any IWC member can do this. Example: Japan
Indigenous (aka Aboriginal subsistence): IWC grants permits to indigenous groups for subsistence food. Example: Alaskan Inupiat
---
That forced Japan to call off its 2014-2015 hunt in the Southern Ocean. It still carried out its smaller hunt in the Northern Pacific.
Mr Suga said Japan would work on meeting the strict conditions under which scientific whaling is allowed.
"We are now carrying out preparations for a new plan for scientific whaling to resume in the 2015/2016 year, a plan that takes the International Court ruling into account," he said.
"Our actions are based on international law, scientific fact and the international whaling treaty."
Japan started its whaling programme in 1987, a year after an international moratorium was enacted.
The ICJ says Japan has caught some 3,600 minke whales since its current programme began in 2005.
It has faced global outrage, including from the US and Australia, with critics saying the programme is a front for commercial whaling.