China Week: Scotland, litter and Li Na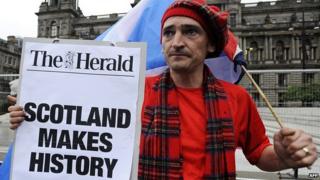 Here's what has caught my eye this week.
No to indyref in China
What a magnificent exercise in people power.
I grew up in Scotland but now live in a country where talking about independence is punishable by years in jail.
I wonder if the news from Scotland has reached the Uighur scholar Ilham Tohti in his Xinjiang prison cell. If so, it must be bitter to reflect that iPhones and trainers can be shipped from China to Europe but ideas still can't travel in the opposite direction.
The Chinese government has been tight-lipped on the Scottish referendum but privately, officials told me they were puzzled that the UK even contemplated shrinking its global influence by breaking into smaller parts.
As seen from Beijing, big is the only beautiful. And as for leaving the public to decide questions of national destiny, that is simply irresponsible in Chinese political culture.
You only ask your citizens a question if you have already fixed the answer.
What else we don't believe in
The closest that the Chinese public got to a vote this week was a survey on social problems commissioned by a Communist Party magazine.
Forty percent of respondents complained of a habitual climate of distrust.
First on the list of things not to believe in was "anything the government says", followed by food safety, medicine and local doctors.
And the survey makes sombre reading for President Xi Jinping.
Two years into his campaign to rejuvenate the Communist Party, a majority of Chinese citizens questioned said officials did not care about their lives.
No to noodles too
Mr Xi himself was caring about litter and coral reefs this week.
On tour in South Asia, his key stop was India in an attempt to reset that strategic relationship. But he went first to the Maldives and issued this simple list of instructions for the growing numbers of Chinese tourists there.
"Do not litter water bottles everywhere. Do not damage coral reefs. Eat fewer instant noodles and more local seafood."
China now has more than 100 million outbound tourists a year. Perhaps if they can be persuaded to model themselves on the president and first lady when they travel, they too could become part of the soft power equation.
No, we don't know where he is
China has mislaid its ambassador to Iceland.
Ma Jisheng disappeared from his post in January. Then his biography disappeared from the embassy's website. Articles about him were also removed from the internet.
The Ministry of Foreign Affairs eventually informed Reykjavik that Mr Ma would not be returning "for personal reasons". But this week came reports that he had been arrested for selling state secrets to Japan, and the state-run Global Times urged that spy cases should be publicised as a warning to others.
The appeal fell on deaf ears at Mr Ma's home department in the Foreign Ministry.
Eight months after his disappearance, they had "no information on this".
And the Icelandic spy saga was matched elsewhere; a reminder that this quiet game is being played in all directions.
A former US military contractor in Hawaii was jailed for passing national defence secrets to his Chinese girlfriend and a report by the US Senate found that hackers associated with the Chinese government had repeatedly infiltrated the computer systems of organisations involved in the movement of US troops and military equipment.
Cyber experts said China had long shown an interest in the logistical patterns of the US military.
And finally a yes!
The biggest story on Chinese social media at the end of the week was not the president's visit to India, not the Scottish referendum, not even the Alibaba IPO.
Instead it was the health problems of a 32-year-old woman.
Tennis legend Li Na announced her retirement from the sport. In the outpouring on Sina Weibo, fans paid tribute to her enormous courage in the face of chronic injuries and to her mastery both of the tennis court and of the Chinese state-run sports machine.
With two grand slams to her name, Li Na took Chinese women's tennis from nowhere to the very top.
She pushed for the right to manage her own career and proved that self-belief can be a workable strategy in the Chinese system if you back it up with hard work.
In a letter explaining her decision to retire, Li Na told her followers to follow their passion and "be the bird that sticks out".
All hail Li Na.
No to indyref in China.