New Zealand PM John Key wants flag change vote in 2015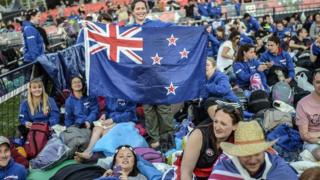 Re-elected Prime Minister John Key said a referendum on whether to change the national flag of New Zealand could be held next year.
Critics say the flag is a colonial relic and New Zealand should assert an independent identity.
However, a survey in March showed that 52% of those asked did not see a need to change the flag.
Mr Key's National Party won a third term in office in an election on Saturday.
The current flag features the British Union Jack on the top-left corner as well as four red stars of the Southern Cross constellation on a blue background.
"I'd like to get on with it, to me I'd like to do it as a 2015 issue," Mr Key told radio station Radio Live.
"I'm obviously a big supporter of the change, I think there are a lot of strong arguments in favour of the change," he said.
Mr Key first talked about a change in the flag in March, saying that he would back a change to a silver fern on a black background, an image used often by New Zealand's sports teams.
He has previously said the country's flag should be uniquely New Zealand and recognisable around the world.
The current flag is sometimes confused with the Australian flag, which looks similar.
However, a group representing former military personnel opposes the change, saying it disrespects people who have defended and died for the flag.