US's John Kerry urges North Korea to close 'evil' labour camps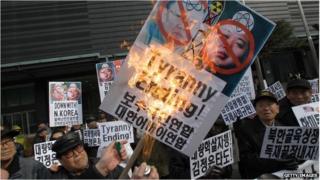 American Secretary of State, John Kerry, has told North Korea to shut down its prison camps - describing them as an evil system.
He said the barbarity and inhumanity of the labour colonies brought shame on the country.
Mr Kerry was speaking at an event in New York on North Korean human rights abuses on the sidelines of the UN General Assembly meeting.
Widespread abuse was documented in a UN report in February.
North Korea denies all charges of repression and brutality and regularly describes criticism of its record as an attempt to undermine its leadership.
"We simply cannot be blind to these egregious affronts to human nature... silence would be the greatest abuse of all," said Mr Kerry at the meeting, which was also attended by the South Korean and Japanese foreign ministers.
US administrations were for long reluctant to challenge North Korea too forcefully on its human rights record, for fear of provoking tension in the region.
Instead, they focused on North Korea's development of nuclear weapons and ballistic missiles, while attempting to draw the North Koreans into negotiations with offers of diplomatic and economic concessions.
The Obama administration, however, has increased sanctions on the North and gave its backing to a thorough human rights report commissioned by the UN Human Rights Council, which was published in February.
That report concluded that the gravity and scale of abuses had no parallel in the contemporary world.
"The crimes against humanity entail extermination, murder, enslavement, torture, imprisonment, rape, forced abortions, persecution on political, religious and gender grounds... and the inhumane act of knowingly causing prolonged starvation," concluded the report presented by a panel of international jurists.
North Korea has long rejected the charge that it maintains camps for up to a 120,000 prisoners - despite the presentation of detailed satellite pictures and testimony from former prisoners and guards.
Mr Kerry said the North Korean leadership may appear impervious to criticism, but he said the leaders did understand their behaviour brought shame on their country in the eyes of the world.