Australia shooting: Teen 'may not have acted alone'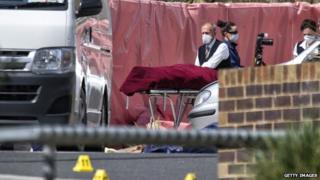 A teenage terror suspect shot dead after he stabbed two Australian police officers may not have acted alone, a top police officer said.
Abdul Numan Haider, 18, was killed on Tuesday evening at a Melbourne police station.
He had been asked to attend a meeting with counter-terrorism officers amid concerns over his behaviour.
Victoria Police Chief Commissioner Ken Lay said police were investigating the exact circumstances of the incident.
"There's some information that he was certainly talking to other people around the time that he came to the police station,'' Mr Lay told the Australian Broadcasting Corporation (ABC).
"It's just a little unclear to us at the moment whether there were actually people at the police station with him, whether they dropped him off, whether they were waiting for him."
Mr Lay said it was "very, very early in the investigation".
"It may be a little way down the track before we can actually lay it out to the community exactly what happened that night."
Islamist fears
The incident took place at Endeavour Hills police station. The teenager stabbed one officer as he approached to shake hands and then stabbed the other. The first officer then shot him.
Both officers are now in a stable condition after surgery.
Last week, major terror raids took place in Sydney and Brisbane to prevent an alleged plot involving Islamic State sympathisers to abduct and behead a randomly selected Australian.
Police have confirmed that Abdul Numan Haider was carrying a flag at the time of the incident, but have not confirmed whether it was the Islamic State flag.
The teenager's family moved to Australia from Afghanistan about 10 years ago, local reports say. He had been associating with an extremist group, ABC said, and police had described him as a "known terror suspect".
The incident comes amid mounting concern over the effect of radical Islamist groups fighting in Iraq and Syria on Australian domestic security.
Officials are concerned about Australians fighting in those conflicts, those who then return home and those in Australia who sympathise with them.