Japan steps up sanctions as tensions rise with Russia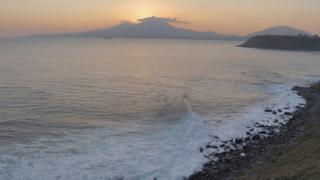 Japan has imposed additional sanctions on Russia for its involvement in the Ukraine crisis.
The move comes amid signs of tension between Moscow and Tokyo over their own territorial dispute.
The new sanctions curtail the activities of Russian banks in Japan and step up controls on arms exports.
Japan had initially adopted lighter sanctions than the US and its allies for fear of derailing improved relations with Russia.
Chief Cabinet Secretary Yoshihide Suga said the new measures put the emphasis on Japan's co-operation with other members of the G-7, whose foreign ministers meet on the sidelines of the UN General Assembly in New York this week.
His statement came shortly after he had protested to Moscow over the visit by a senior Russian official to disputed islands seized by the Soviet Union at the end of World War Two.
"A visit like this hurts the Japanese people's feelings and is extremely regrettable," he said.
The official Sergei Ivanov, a close aide of President Vladimir Putin, visited a new airport on one of the disputed islands off Hokkaido, known as the Northern Territories by Japan and the Southern Kurils by Russia.
Japanese Prime Minister Shinzo Abe has made considerable efforts to court Mr Putin since taking office in 2012, meeting the Russian leader on five occasions.
Japan is anxious for friends in Northeast Asia, given a tense confrontation and growing competition with China, and tension with the two Koreas.
It also wants to improve economic co-operation, given its interest in Russian natural gas reserves, and hopes for an eventual negotiated settlement to the dispute over the islands.
Those initiatives now appear to be under threat as Russia responded with anger to the new sanctions.
"We regard this unfriendly step as yet another sign of Japan's incapability of building up its foreign policy on its own," said a statement from the Russian foreign ministry.
"Tokyo is doing damage to its own geopolitical positions and is sending a wrong signal to its business community," continued the statement, which indicated there could be little further progress in relations while the sanctions continued.