China Week: Making up and breaking up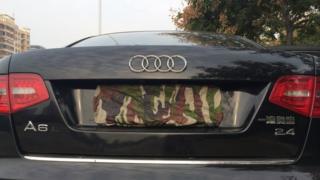 Sorry to be late. I have been out tiger hunting in Shanxi (frontline of the anti-corruption fight). The number plates on the Audi tell you the kind of crowd I have been mixing with! Other than that, here's what caught my eye this week.
---
Making up… if Beijing gets its way
What an audacious moment for President Xi Jinping to embark on the theme of "one country two systems" with Taiwan! You cannot fault him for dramatic timing.
Thousands of Hong Kong students were on a weeklong boycott of classes to defend their version of one country two systems from what they see as Beijing's assault…. and right on cue, President Xi presents the one country two systems slogan to the people of Taiwan.
Does he not hear the cries of mistrust and fear from the democrats in Taiwan or Hong Kong?
If he does, bookending the week with a photo call of Hong Kong billionaires on Monday and another smiling snapshot of pro-reunification Taiwanese on Friday is certainly an emphatic answer, especially under headlines promising his "firm and unwavering stance".
President Xi pointedly did not seek a selfie with anyone from Taiwan or Hong Kong who has a different view of one country two systems from his own.
Hong Kong's democracy campaigners have already drawn their own conclusions about the prospects for further consultation.
They issued a kit list for anyone planning to attend next week's National Day demonstration including goggles to protect against police pepper spray and food supplies to last two or three days.
Hong Kong police clear protesters
---
Making up… but not by much
Two foreign ministers met in New York on the sidelines of the UN General Assembly.
Japanese Foreign Minister Fumio Kishida said the encounter with China's Wang Yi was "very meaningful for building trust".
The Chinese foreign ministry responded frostily that the meeting had been "at the request of the Japanese side".
But at least they did not lecture. And alongside a slew of party-to-party contacts and maritime talks, there does seem to be a mini-thaw in advance of the Apec summit in November when Japanese Prime Minister Shinzo Abe will come to Beijing.
But "making up" is probably the wrong kind of language for tiny spasms of engagement in this profoundly dysfunctional relationship.
---
Breaking up
In a terse statement, the University of Chicago announced that there would be no further negotiations over renewing its Confucius Institute.
China's Confucius Institutes are an increasingly controversial presence on American university campuses.
They are funded by the Chinese government and their stated aim is to promote Chinese language, teaching and culture.
But increasingly critics complain that they are not a benign channel for soft power but a direct challenge to cherished freedoms.
Reading between Chicago's lines, the final straw seems - and not for the first time - to have been Madam Xu Lin who runs the entire Confucius Institute programme around the world and is by all accounts a forceful personality.
For example, at an academic conference in Portugal this summer, she ordered that a page be ripped out of the conference programme because its reference to Taiwan caused her offence.
But the problems at Chicago started earlier this year when 100 teaching staff signed an open letter calling for an end to the university's Confucius Institute, citing concerns about compromising academic freedom and subjecting staff and students to "political constraints on free speech and belief".
Confucius Institute officials deny any interference, but interference means different things to different people. Expect more make-ups and break-ups on the soft power front.
---
Making up but only in order to break things
From soft power to hard power. Chinese arms manufacturers were assiduously making friends this week at the African Aerospace and Defence Expo in Pretoria.
One of China's largest defence companies Norinco, for example, is apparently offering a bundle nicknamed the "set meal" which includes rifles, laser-guided bombs, tanks and drones… in fact everything your African defence minister could wish for in one cheap reliable package.
No surprise then that China's military industrial complex is growing its influence in the developing world and that by some estimates China is now the world's fourth biggest arms exporter.
---
Breaking people
Some Chinese companies at the African Expo were in the crosshairs of another news story this week, named in a report by human rights organisation Amnesty International as exporters of tools of torture. Amnesty alleged that such exports are fuelling human rights violations.
"One company which has advertised equipment including thumb cuffs, restraint chairs, electric shock stun guns and batons - stated in 2012 that it has links with more than 40 African countries and its trade with Africa was worth more than $100m," the Amnesty report said.
But a Chinese foreign ministry spokeswoman brushed off the allegation of lax government export controls and the entire report, commenting that Amnesty International was "always biased against China".
China exporting 'tools of torture'
---
Not breaking up
Some of the equipment Amnesty was complaining about is used widely at home.
Leg shackles for example. So having started with a nod to one big story of the week in Hong Kong, let me finish shackled to the other in Xinjiang.
No one needs reminding that the Uighur scholar Ilham Tohti started a life sentence this week.
Convicted of trying to break up China, he issued a statement from his prison cell repeating that his work had been dedicated to the opposite, keeping China together and respecting the rights of all its citizens.
Through his lawyer, Ilham Tohti said that he was now in leg shackles 24 hours a day but insisted that his courage was strong and that he would never break.
"If you hear news that I mutilated or killed myself, you can be certain it is made up."
It is a sombre note to end on, and I did hope to have more cheerful news to offer you this week. I did look hard. Let's hope next week will provide. Do feel free to send me suggestions @BBCCarrie.
I'm going back down to Hong Kong next week so must remember to pack my goggles.