Japan volcano: Bid to reach hikers on Mount Ontake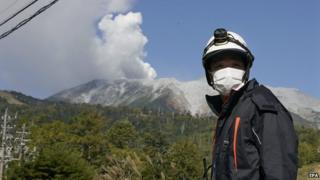 Rescue efforts have resumed on Mount Ontake in Japan where dozens of hikers are thought to be stranded following the sudden eruption of the volcano.
A military helicopter rescued two people after managing to land, officials said.
At least 40 people have been injured, some seriously, and at least 30 others are missing.
Small eruptions continued overnight but more than 200 people have made their way off the mountain.
Some described being unable to breathe as a blanket of ash fell from the sky.
Columns of thick white steam were rising from the 3,067m (10,120ft) volcano which erupted at about noon on Saturday, spewing ash and rocks.
A suffocating blanket of ash up to 20cm (8in) deep has covered a large area of the volcano.
Seven people were unconscious and buried under the ash, national broadcaster NHK said.
As the rescue effort resumed on Sunday, more than 500 Japanese soldiers and police headed for the area.
"It's very hard to know what's happening on the mountain now and things could change," said one official with the government of Nagano prefecture, quoted by Reuters.
A spokesman at Otaki village said a military helicopter surveying the summit had rescued a man and a woman.
"It found the two people waving at it," the spokesman told AFP news agency.
"Originally, the rescuers thought it might be difficult to go near them because ash could rise (and damage the helicopter), but the conditions were better than they believed," he added.
Video footage posted online showed hikers scrambling to descend as ash and steam enveloped them.
"All of a sudden ash piled up so quickly that we couldn't even open the door," Shuichi Mukai, who worked in a mountain hut just below the peak, told Reuters.
He said the hut quickly filled with hikers taking refuge.
"We were really packed in here, maybe 150 people. There were some children crying but most people were calm. We waited there in hard hats until they told us it was safe to come down."
Mount Ontake last erupted in 2007.
The mountain, about 200km (125 miles) west of Tokyo, is a popular place to see autumn foliage.
Japan is one of the world's most seismically active nations but there have been no fatalities from volcanic eruptions since 1991 when 43 people died at Mount Unzen in the south-west.