Taliban kill three in Kabul blast targeting army bus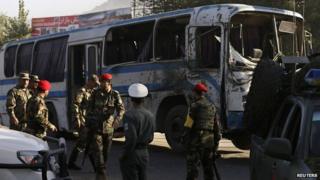 At least three people were killed when a Taliban suicide bomber attacked an Afghan army bus in Kabul on Thursday, the interior ministry said.
Local media said at least seven others were injured in the attack.
The bombing is the fourth such Taliban attack since the swearing in of new President Ashraf Ghani on Monday.
At least seven Afghan soldiers died and many were injured after a suicide bomber targeted another army bus in Kabul on Wednesday.
The Taliban claimed responsibility for all four attacks, saying they were a continuation of an offensive which started in the summer.
Key deal
The day after being sworn in, Mr Ghani signed a deal letting US troops stay in Afghanistan after the end of 2014.
Mr Ghani's predecessor, Hamid Karzai, had refused to sign the deal because of a disagreement with the US.
The Taliban has vowed to fight President Ghani's new government, which it called a "US-orchestrated sham".
Under a US-brokered unity deal Mr Ghani shares power with runner-up Abdullah Abdullah who becomes chief executive.
Meanwhile, the commanders of Afghan forces and international troops in Afghanistan say Islamic State is not operating in the country.
In his first broadcast interview since taking command of Isaf forces a month ago, Gen John Campbell said that there were no "credible military reports" of IS coming to Afghanistan.
The head of the Afghan army, Gen Sher Mohammed Karimi, agreed. Although he warned that they may be trying to infiltrate the country.
The BBC's David Loyn in Kabul says there have been persistent rumours of worsening violence in insurgent attacks on civilians, including beheadings - an apparent copy of IS tactics.
The most recent reports came from Ghazni province, south of Kabul last week. But Gen Campbell said he had investigated the reports and found them to be exaggerated.