Australia orders inquiry into Nauru abuse claims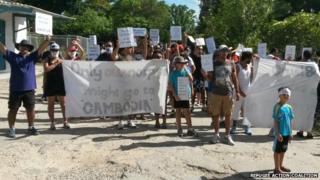 Australia has ordered an inquiry into claims that asylum seekers have been abused at its Nauru detention camp.
The allegations include claims of staff sexually abusing women and children, and incidents of self-harm.
Immigration Minister Scott Morrison said the independent inquiry would also look into reports aid workers were inventing such incidents or encouraging asylum seekers to self harm.
Australia has attracted intense criticism for its immigration policies.
Asylum seekers it intercepts as they are trying to reach its shores are sent to centres on Nauru and Papua New Guinea. Anyone deemed to be a refugee will be ultimately resettled in those countries or Cambodia, not Australia.
Earlier this week, opposition Greens Senator Sarah Hanson-Young alleged that female asylum seekers were regularly required to strip and exchange sexual favours with guards so they could shower.
She had also brought up allegations that children were being forced to perform sexual acts in front of guards, and that young people were attempting self-harm and suicide.
The Greens and Labour called for an investigation, according to the Australian Broadcasting Corporation.
Australia and asylum
Asylum seekers - mainly from Afghanistan, Sri Lanka, Iraq and Iran - travel to Australia's Christmas Island by boat from Indonesia
The number of boats rose sharply in 2012 and early 2013. Scores of people have died making the journey
To stop the influx, the government has adopted hard-line measures intended as a deterrent
Everyone who arrives is detained. Under a new policy, they are processed in Nauru and Papua New Guinea. Those found to be refugees will be resettled in PNG, Nauru or Cambodia
Tony Abbot's government has also adopted a policy of tow-backs, or turning boats around
Rights groups and the UN have voiced serious concerns about the policies and accuse Australia of shirking international obligations
Australia asylum: Why is it controversial?
Mr Morrison said the reports of sexual misconduct were "abhorrent and I would be horrified to think that things of that nature have taken place".
But he said he had also seen reports indicating that staff from one of the service providers on Nauru had been engaging in a "broader campaign with external advocates to seek to cast doubt on the government's border protection policies".
He did not name the service providers.
The allegations are that aid workers doctored reports and encouraged camp residents to harm themselves so they could leave the island.
"If people want to be political activists that's their choice but they don't get to do it on the taxpayers dollar and working in a sensitive place like Nauru," said Mr Morrison.
He also said he had ordered 10 members of the charity Save the Children off Nauru, adding that these removals had nothing to do with suspected misconduct.
Save the Children has strongly denied that their staff fabricated stories of abuse or encouraged self-harm.
The charity's head in Australia, Paul Ronalds, said incidents of children self-harming on Nauru were "a reality and have been well documented".
The inquiry comes after a series of protests on Nauru by asylum seekers and resettled refugees over a range of issues, including their living conditions and the recent agreement with Cambodia to resettle refugees in the South East Asian country.
Rights groups say that since last week some asylum seekers have drunk detergent, cut their own throats, and sewn their lips together in protest.
The Australian government has been heavily criticised for its hard line on immigration and for the allegedly deteriorating conditions in asylum seeker processing centres.
Earlier this year Australia's top human rights official Gillian Triggs claimed that children had been self-harming in the centre on Christmas Island, while the Australian Churches Refugee Taskforce accuses the government of not doing enough to protect child detainees.
The government has rejected such claims saying that it provides adequate healthcare, and has argued that the number of children in detention has declined.