Japan volcano: 16 still missing after Mount Ontake eruption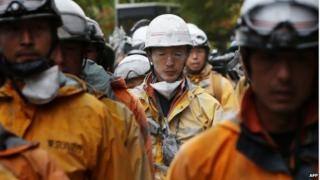 Sixteen people are still missing following the deadly eruption of Mount Ontake last weekend, Japanese officials have said.
The search has been temporarily called off as a typhoon near the southwest coast made conditions hazardous.
The volcano, about 200km (125 miles) west of Tokyo, erupted last Saturday killing 47 people, mostly hikers. It is still emitting poisonous fumes.
More than 1,000 people been searching for survivors.
Mount Ontake's eruption, the worst volcanic disaster in Japan for 90 years, spewed grey ash and stones that blanketed the entire area.
Rescue workers say the ash has been as thick as half a metre in some parts. Some of the dead have been found half-buried in the ash, while others were hit by rocks thrown out by the crater.
Dozens of hikers were present on the mountain and were caught by surprise by its eruption.
Officials have struggled to work out how many more people might still be on the volcano.
They have now checked various reports and counted cars still at the base of the mountain to arrive at the first official figure of those still missing.
Prime Minister Shinzo Abe has told parliament they plan to speed up measures to strengthen the volcano monitoring system, as well as improve communication to climbers.
Search operations were suspended for the second consecutive day on Friday due to continuing rain.
Officials fear rescue efforts will be hampered further by approaching Typhoon Phanfone, which is expected to arrive this weekend off Japan's southwest coast.
The typhoon is said to have winds reaching up to 252kmph.