North and South Korea ships exchange warning shots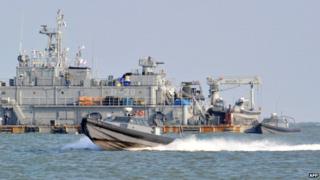 North and South Korean ships exchanged warning shots after a North Korean patrol boat crossed a disputed maritime border, say officials from the south.
The incident happened around 10:00 local time (03:00 BST) on Tuesday, said South Korea's Yonhap news agency.
It comes three days after North Korean officials agreed to resume high-level talks with the South.
The two countries technically remain at war, after the Korean War ended in an armistice.
The incident reportedly took place near the border island of Yeonpyeong, according to the AFP news agency.
A South Korea military spokesman said in a statement that they had sent "warning messages and fired a warning shot".
He said the North had fired back, resulting in another exchange of fire, before the North's ship retreated.
No injuries or damage were reported.
The BBC's Steve Evans in Seoul said that maritime skirmishes in the area are not infrequent. There was a similar one, with shots fired in a naval clash, two weeks ago.
Sailors from both sides have died in clashes over the years.
Our correspondent says the latest incident, while unlikely to derail the planned talks, underlines the dangerous nature of the relations in the heavily armed Korean peninsula.
---
Yeonpyeong Island
Lies 3km (2 miles) from disputed Yellow Sea border and 12km from North Korean coast
Houses military installations, a permanent Marine detachment and a small civilian population
Rich fishing grounds in surrounding waters
Scene of inter-Korean naval clashes in 1999 and 2002
In the 2002 exchange of fire, 13 Northern sailors and five Southern sailors were killed
In late 2010, four South Koreans were killed by Northern artillery fire following a military exercise by the South
---