Australian PM seeks to block visas for 'hate preachers'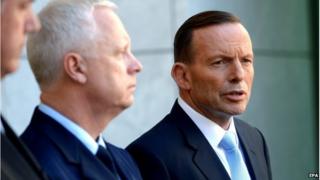 Australia's PM Tony Abbott has said he wants visa rules tightened so preachers of extremist ideologies will be refused entry into the country.
He said the proposed legal amendments would also make it a crime to "promote terrorism" in Australia and make it easier to ban extremist groups.
Australia has been on high alert for terrorist attacks and has conducted anti-terror raids in recent weeks.
It has joined a US-led coalition fighting Islamic State (IS) in Iraq.
Australia already has laws that allow it to refuse visas to people who have a substantial criminal record, who are "not of good character", or who are likely to "incite discord" or "represent a danger" to Australia.
But Mr Abbott told reporters on Tuesday that a "red-card" system would be introduced to screen, identify and refuse visas to certain individuals.
"Over the years there have been all sorts of people coming to this country to cause trouble to make a nuisance of themselves, to stir up Australian against Australian," he said.
"What we want to do is to ensure that known preachers of hate do not come to this country to peddle their divisive and extremist ideology."
Timeline: Australia and foreign fighters
Phil Mercer: Australia's home-grown terror threat
His comments come as radical Islamist group Hizb ut-Tahrir plans to hold a public lecture in Sydney on Friday - entitled "The War to End a Blessed Revolution" - about the military operation against IS.
Mr Abbott told a radio station that he believed the "top drawer" speaker at the lecture was a "preacher of hate", reported the Australian Broadcasting Corporation.
The group's spokesman, Uthman Badar, said that all the speakers were locals and accused Mr Abbott of seeking to "whip up Islamophobic hysteria".
Mr Abbott also said he was angry and frustrated that under current laws he cannot ban Hizb ut-Tahrir, as many other countries have done, and will attempt to do so if parliament passes anti-terror legal amendments.
Currently the government bans groups that engage in terrorism. But under the proposed amendments, groups that promote terrorism can also be outlawed.