At least seven die in stampede at Pakistan rally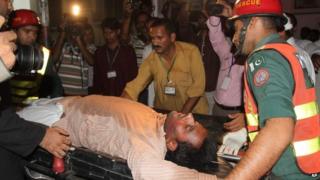 At least seven people have died in Pakistan after a stampede after a political rally at a stadium in Multan with around 40 injured.
The incident happened after a speech by opposition politician, Imran Khan.
Mr Khan, the rally's organiser, called for Pakistan's prime minister to resign. He accuses Nawaz Sharif of vote-rigging in last year's elections.
Mr Sharif expressed sorrow for what happened at the rally, one of many held against him since August.
Mr Khan has been vocal in his criticism of the prime minister.
In August he and Tahir ul-Qadri, a Sufi cleric, led protesters in occupying government buildings and embassies in the capital Islamabad.
Supporters of Mr Sharif claim the demonstrations were instigated by Pakistan's powerful army, who, they say, are trying to weaken the prime minister.
Last month, crowds tried to storm Mr Sharif's house and briefly forced the state television channel to suspend broadcasts.