North Korea: Where is Kim Jong-un?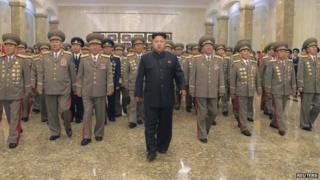 Kim Jong-un, North Korea's 32-year-old leader, has been absent from public view for more than 38 days, prompting a flurry of speculation about the political stability of a regime notorious for its opaqueness and secrecy.
In particular, Mr Kim's non-attendance at two high-profile public events - the 10 October anniversary of the establishment of the Korean Worker's Party, and the 9 September Foundation Day of the North Korean State - two signature days in the political calendar when the leader would be expected to make an appearance, has been read by some as a sign of potential political turmoil behind the scenes.
Official North Korean media have cited unspecified personal "discomfort" as grounds for Mr Kim's absence from public view.
Foreign analysts of the regime have speculated, on the basis of very limited empirical evidence, that this may be based on a variety of causes ranging from gout, diabetes, heavy smoking on the part of the young leader, ankle injuries sustained during recent military inspection visits, and most recently (according to testimony from a German doctor who met Mr Kim) substantial problems in his endocrine system and internal organs.
Poor health is a plausible explanation for Mr Kim's decision to shun the limelight - a striking departure for a leader who, in marked contrast to his publicity-shy father (the late Kim Jong-il), has appeared to revel in high-profile public appearances.
A more dramatic interpretation is that Mr Kim has been the victim of a political coup and is languishing under house arrest, having been removed from power by members of the North's political and military gerontocracy alarmed by his penchant for purging his political rivals - most notably the execution of his uncle Jang Song-taek in December 2013 - and his failure to promote lasting economic prosperity.
In particular, senior members of the Pyongyang elite, may, according to this theory, have become increasingly disgruntled as a result of tightening international sanctions that have curtailed their access to privileges in-kind, typically in the form of ever more scarce luxury commodities.
Alternatively, Mr Kim's putative political fall from grace could be the result of worries within political circles that the North has been failing in the high-stakes game of international diplomacy.
An erratic policy over the last nine months of alternately sharply criticising and reaching out to the Park Geun-hye administration in South Korea has failed to deliver any political or economic dividends for the North, whether in the form of substantially expanded humanitarian aid, a re-start of tourism at the North's Mount Kumgang resort, or a dramatic rise in inward foreign investment and trade.
The Obama administration remains resolutely committed to not responding to the North's military and political provocations, and the North seems incapable of leveraging its de facto nuclear status into any meaningful political or diplomatic concessions from Washington; even China, the North's sole security guarantor and regional ally, has become increasingly irritated by Mr Kim's regional belligerence.
No successor
Yet for all the talk of coups and leadership realignments, the circumstantial evidence suggests that Mr Kim remains in charge. South Korea's intelligence community supports the view that he is recuperating from illness and that the decision to limit his public appearances is more likely an attempt to maintain the general air of infallibility associated with the Kim dynasty.
If anything, recent diplomatic overtures are, more plausibly, confirmation that Mr Kim continues to dictate national policy. The 4 October surprise visit to Seoul by a three-man delegation, headed by Mr Kim's trusted senior military adviser, Hwang Pyong-so, vice-chairman of the National Defence Commission and a former official in the country's powerful but secretive Organisation and Guidance Department (OGD), points to Kim still being in control.
Mr Hwang reportedly brought with him a personal message from Mr Kim to President Park and the visit was intended to open up rare diplomatic space for renewed North-South dialogue.
This comes on the heels of a similar overture in late September at the United Nations, when UN Secretary General Ban Ki-moon received a handwritten letter from Mr Kim, delivered by North Korean foreign minister Ri Su-young - the first time in 15 years that a senior North Korean official has attended the United Nations.
Perhaps the strongest evidence against the coup scenario is the lack of a clear successor to Mr Kim. North Korea lacks any tradition of collective leadership to warrant a political transition in the North comparable to the post-Stalin shift that occurred under Khrushchev and Malenkov in the Soviet Union in 1953.
Most importantly the dominance of the Kim dynasty and reliance exclusively on family lineage as a basis for political legitimacy in the North restricts the range of eligible replacement leaders to a handful of distinctly implausible options. Mr Kim's two brothers are non-starters, with one of them in exile overseas and the second disqualified on grounds of his effeminate character and reported predilection for amphetamines.
There has been speculation that Mr Kim's younger sister, Kim Yo-jong, may be standing in temporarily for her brother, but even if true, it is highly unlikely that she would constitute a viable and publicly acceptable alternative leader in a highly sexist society that has no basis for having a woman at the helm.
For now, the most banal explanation for Kim Jong-un's absence is the most convincing - health concerns of an undisclosed nature are keeping him from public view.
If and when he returns, expect more diplomacy and efforts at renewed engagement with the outside world, coupled with periodic bouts of largely symbolic political and military sabre-rattling to demonstrate that North Korea remains both a force to be reckoned with and a state neither to be ignored nor taken for granted.
John Swenson-Wright is head of the Asia Programme at Chatham House.