Australia faces asylum court challenges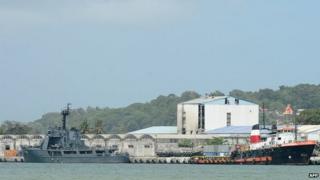 The Australian government is facing two challenges in court on Tuesday over its policies towards asylum seekers.
The High Court is hearing the case of 157 asylum seekers who set off from India by boat. Their lawyers will argue they were illegally detained aboard an Australian customs ship for a month.
A federal court will hear the case of a boy born in Brisbane to asylum seekers.
His lawyers argue that the boy should be given permanent protection - something the government has ruled out.
Australia takes a tough line on asylum seekers who arrive by boat. They are held in offshore processing camps and, if found to be refugees, will be resettled in Papua New Guinea or Cambodia.
In recent months Australian ships have also intercepted boats at sea.
Some have been towed back to Indonesia - the closest jumping-off point for reaching Australia - while people on board others have been transferred into lifeboats and instructed to sail themselves back to where they started.
These policies have been criticised by rights groups and the UN, who say Australia may be failing to meet its obligations towards asylum seekers.
Intercepted
The first court case relates to a group of Sri Lankans, including Tamils, who set out from southern India. They were intercepted by Australian security personnel in July and held on a customs ship at sea for a month, initially in secret.
The case came to light after Australia detained a separate boat of Sri Lankan asylum seekers, screened their asylum claims at sea and returned them to Sri Lanka.
Australia and asylum
Asylum seekers - mainly from Afghanistan, Sri Lanka, Iraq and Iran - travel to Australia's Christmas Island by boat from Indonesia
The number of boats rose sharply in 2012 and early 2013. Scores of people have died making the journey
To stop the influx, the government has adopted hard-line measures intended as a deterrent
Everyone who arrives is detained. Under a new policy, they are processed in Nauru and Papua New Guinea. Those found to be refugees will be resettled in PNG, Nauru or Cambodia
Tony Abbot's government has also adopted a policy of tow-backs, or turning boats around
Rights groups and the UN have voiced serious concerns about the policies and conditions in the offshore camps, and accuse Australia of shirking international obligations
Australia asylum: Why is it controversial?
Human rights activists filed a legal challenge aimed at preventing similar handling of the second group.
After a failed attempt by Australia to return them to India, they were briefly taken to the Australian mainland and then transferred to the offshore processing centre in Nauru.
Lawyers for the group will question whether the group, intercepted 16 miles from Christmas Island in Australia's contiguous zone - therefore outside its territorial waters - were falsely imprisoned.
The Human Rights Law Centre, which is assisting, said the case would examine:
whether the asylum seekers' personal circumstances were properly evaluated in any decision to detain and/or try to return them to India
the legality of their detention given the absence of any agreement with India to accept them back
whether Australia's power to detain and return them was limited given its obligations under international law to not return people to places where they might be harmed.
Rights groups say Tamils can still face intimidation and violence in Sri Lanka, five years after the end of the civil war which pitted the majority Sinhalese Sri Lankan military against Tamil separatists.
The second case is being fought on behalf of an 11-month-old Rohingya boy who was born in a Brisbane hospital, after his mother was brought from detention in Nauru to give birth.
Under current law, those who arrived by boat after 19 July 2013 are denied protection in Australia, even if found to be genuine refugees. This includes any children they have.
The Rohingya are a stateless Muslim minority who live in western Burma. Many have fled bloody anti-Muslim violence there in recent months.
Lawyers for the baby say the case has implications for about 100 other babies born to asylum seekers on Australian soil.