Two Thai men are under arrest for trafficking 53 people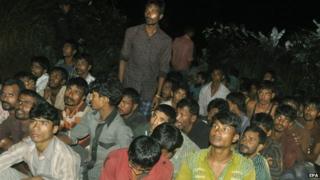 Two Thai men have been arrested on charges of human trafficking after 53 foreign workers were found on a rubber plantation in southern Thailand.
The group, who come from Bangladesh and Myanmar, also known as Burma, were discovered on Saturday. They are thought to be Rohingya Muslims.
If convicted, the two men face up to 10 years in jail. Police are still looking for the gang leaders.
The US recently criticised Thailand for failing to combat trafficking.
Stateless and vulnerable
Thai Prime Minister Prayuth Chan-ocha, who seized power in a military coup in May, promised to "prevent and suppress human trafficking".
But in June the US state department, which produces regular reports analysing the trafficking situation around the world, dumped Thailand into its bottom category.
In its report, the state department said the Thai government had failed comply with basic standards for ending trafficking.
Officials said most of the 53 men were Rohingyas, a Muslim minority group from Myanmar.
Hundreds of thousands of Rohingya have been forced to flee into Bangladesh.
They are described by the UN as one of the most persecuted minorities in the world, and are not recognised as citizens by Myanmar or neighbouring Bangladesh.
Rights groups say the Rohingya people are particularly vulnerable to trafficking because they are considered stateless.
Meanwhile, another group of 79 people were found on a remote island off Thailand's south-west.
Thai official Churin Kwanthong said they were interviewing the group to determine how they arrived in Thailand.
"We have to wait for further information on this group to see if they were tricked in to coming or whether they came of their own volition," he said.