Pakistan's 'miracle' doctor inspired by NHS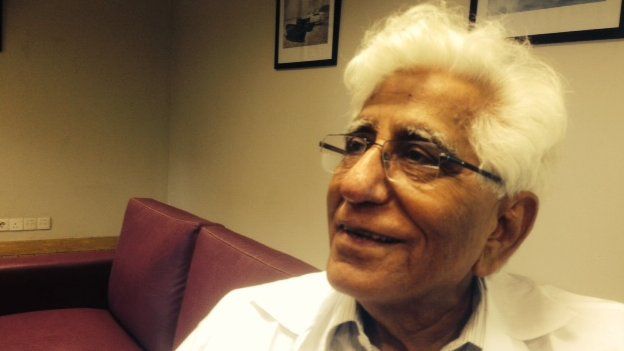 Pakistan's shambolic public health system suffers from corruption, mismanagement and lack of resources. But one public sector hospital in Karachi provides free specialised healthcare to millions, led by a man whose dream was inspired by the UK's National Health Service.
Dr Adib Rizvi's most distinguishing feature is not just his grey hair. You can spot him in a crowd of people in a cramped hospital corridor by the respect he commands among patients and staff.
It doesn't only come from being the founder and the head of one of Pakistan's largest public health organisations.
Quite the opposite, for a man who's spearheaded a life-long mission of providing "free public health care with dignity," Dr Rizvi is unassuming as he walks around the hospital wards checking on his patients.
Many of them he knows by name. They include children as well as the elderly, Muslims as well as non-Muslims.
The rapport he enjoys with them is striking. He's seen as a friend, someone they trust, someone who's not after whatever little money they may or may not have.
Most of these patients would have nowhere to turn to for the specialised care their life depends on if it wasn't for the free treatment they get at the Sindh Institute of Urology and Transplant (SIUT).
Located in an old congested neighbourhood, the institute is an extended arm of Civil Hospital Karachi - one of the largest teaching hospitals in Pakistan.
Since it was set up as an eight-bed ward 40 years ago, SIUT has seen phenomenal expansion to emerge as a world-class kidney disease centre in Pakistan.
Now the hospital says it has the distinction of performing the highest number of successful renal transplants, dialysis sessions and treatment of kidney stone disease anywhere in the world.
None of this would have been possible without the selfless leadership of Dr Rizvi.
So, how did it all happen?
Adib Rizvi was barely 17 when Hindu-Muslim communal riots forced him to migrate from India to the newly created country of Pakistan.
Without a family, he spent much of his time as a medical student in Karachi in the 1950s living in boarding hostels.
"In those days, I had plenty of time to roam about and observe what goes in our hospitals," he remembers.
What he experienced there would leave a deep impact on him for the rest of his life.
"I saw people being abused for not being able to pay for treatment. I saw elderly women taking off their earrings and pawning them to pay for medicine.
"People would beg for healthcare, but they would be demeaned. It was like people were required to pawn off their self-respect to get a service which I felt should have been their right as citizens in the first place."
After completing his medical degree in Karachi, Dr Rizvi went to Britain for a fellowship in surgery. There, he spent a decade working in hospitals.
"I was inspired by the National Health Service (NHS). It showed me that providing free healthcare was doable," he says.
But when he returned to Pakistan in 1971 and joined Civil Hospital Karachi as assistant professor of urology, most people around him told him he was talking utopia. "They said it can't be done here."
At the time, he had a choice.
He could have opted to set up his own private hospital. He could have built up his own lucrative empire while keeping his day job at the poorly run government hospital - a path taken by many highly qualified physicians in Pakistan.
"But the option never really appealed me," he says. "I always felt that in order to really make a difference, I had to be committed to this public sector hospital. Because when you contribute to public sector institutions, you help the common man. That's what I wanted to do."
No obstacle was big enough. Lack of funds, beds, medicines, surgical instruments didn't discourage him. Neither did the lack of enthusiasm among health officials to change or improve things.
Contributions were collected from a close network of friends and well-wishers. A team of publically-spirited doctors and medics started to come together. They got on with whatever they could manage to expand their services. A few second-hand dialysis machines were imported from Britain and added to the small urology ward.
The impact of their dedication and hard work was such that, soon, public support and voluntary contributions started trickling in.
Slowly but surely, Dr Rizvi's ward kept adding latest services to their offerings, always free of cost.
"I never waited for the government or a corporation to give us funds. I never planned any of this. Our expansion was purely organic - always driven by the needs of our patients."
By the late 1970s, the institute was serving hundreds of kidney patients hooked to dialysis machines. That's when Dr Rizvi and his team realised that it couldn't go on like this and that it was time to embark on the next phase of their journey - organ transplantation.
In those days, no medical facility in Pakistan offered renal transplant.
Once again, Dr Rizvi and his team were told it wouldn't be possible.
"I was advised to confine myself to being an urologist. I was told that I was wasting my time when I could be running a successful private practice," he said.
Determined to pursue transplant surgery, Dr Rizvi went back to Britain and then on to the US to brush up on the latest technology and practices.
"I was keen that we get it right because the operation involves live donors," he says.
He was also conscious of the possible religious opposition to transplantation of human organs. "For this life-saving procedure to become acceptable in Pakistan, we had to make sure it was successful," he said.
After returning home in the early 1980s, Dr Rizvi started developing a team of doctors, nurses, technicians and other staff to train them for transplant surgery.
The rooftop of one of the hospital buildings was quietly taken over and turned into an animal farm of sorts.
It would serve as their experimental lab where dogs, pigs, monkeys and other animals were brought in, looked after and operated on for training purposes.
It was an unofficial project, run rather clandestinely by Dr Rizvi and his team. Not many people knew what went on up there.
"Let's just say we were tolerated by the hospital administration because by then I managed to acquire a bit of autonomy within the system," he says with a smile.
"As long as I didn't ask them for any money, they were happy to let us get on with our work."
Dr Rizvi insists the team was required to take utmost care, as if they were handling human tissues, and to make sure the animals had to survive the transplants.
The experimental lab went on for a couple of years.
And so, when the time came for their first human transplant, Dr Rizvi and his team were ready for it. In December 1985, they performed Pakistan's first successful kidney transplant.
It was done rather quietly in the urology ward because, as Dr Rizvi puts it, "we didn't want to make a big deal of it".
When the Pakistani media and government ministers got wind of it a week later, it was celebrated as a national achievement.
The operation was a huge success as it allowed the patient, who was in poor health because of kidney failure, to live another 18 years.
From then on, Dr Rizvi and his team never looked back.
Over the years, the procedure has become routine at SIUT. To date, nearly 5,000 free organ transplants have been performed, in addition to 750 dialysis sessions on a daily basis.
All along, local philanthropists, members of the community and beneficiaries of SIUT donated millions to expand its services.
"We started with an eight-bed ward 40 years ago. Today, we have 800 beds. Back then, we used to have a small room in this hospital. Today, we have two multi-storey buildings and three more are being built."
Pushing 70 and still working round-the-clock, Dr Rizvi says he's proud of what his team has achieved at SIUT.
"But we have a long way to go," he says.
With a growing population and a failing public health system, the pressure is on institutions like SIUT.
"We are constantly struggling to keep up with the rising number of patients who can't afford specialised care. We need to continue to expand, which means more donations, more hospitals and more doctors," he says.
Dr Rizvi is optimistic that public support and ownership of the institution will make sure that it continues to grow.
He says: "I have no doubt that long after I am gone, our next generation of doctors committed to serving the public will take this institution forward."