Prabowo pledges 'support' for Indonesia leader Jokowi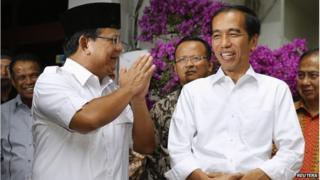 Months after Indonesia's presidential election, losing candidate Prabowo Subianto has congratulated winner Joko Widodo and pledged support.
At the first meeting between the two since July, Mr Subianto said he had asked his party to back Mr Widodo.
Mr Subianto launched a challenge shortly after the election, claiming he lost due to "massive" electoral fraud. His bid was rejected in August.
Mr Widodo is set to be inaugurated as president on Monday.
On Friday the two men appeared together, smiling, at a press conference.
"During a meeting that was full of friendship, I congratulated him... I conveyed to the party that I lead, my friends and supporters, to back Jokowi and his government," said Mr Subianto.
But he added that they would "not hesitate to criticise" if they found some things "which are not for the benefit of our nation and people".
---
Karishma Vaswani, BBC News, Jakarta
This meeting was a finale worthy of an Indonesian sinetron (soap opera). Many political observers see it as a sign that tensions between the two are thawing.
It will go a long way towards allaying fears amongst the business community. There had been concerns that with a hostile parliament, Jokowi would have been unable to push through crucial economic reforms in South East Asia's largest economy.
But Mr Subianto phrased his support ambiguously, enough for him to step back into the opposition should he decide to do so, analysts say
For now however, it does appear that Jokowi, the maestro of Javanese politics, has won his first big victory ahead of his inauguration. He is known for his political cunning despite being an outsider in Indonesian politics. This move may be enough to silence critics who had previously branded the new president naive and ineffective.
---
Mr Widodo, also know as Jokowi, in response said he saw Mr Subianto's willingness to criticise as "a good thing".
"Our goals are the same, everything is for the sake of the nation... A balance in the management of the country is very important," he said.
His win has been seen by many as ushering in a new era in Indonesian politics. From a humble background and known for his clean reputation, Mr Widodo is the first president who does not have a military background or come from the traditional political elite.
Mr Subianto, a wealthy former army general, has close ties to the elite and used to be married to former president Suharto's daughter.
Two-thirds of Indonesia's parliament are from Mr Subianto's coalition, and in recent months have voted to scrap direct elections for regional governors and mayors.
The move was seen as a blow to Mr Widodo, who was directly elected as governor of Jakarta before he became president-elect.