Philippine militants release two German hostages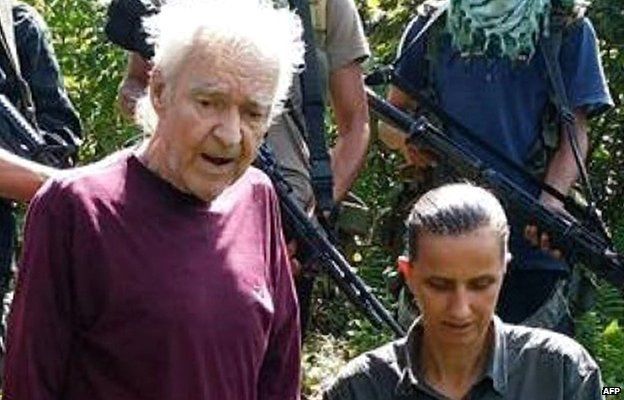 A Philippines-based militant group has released two German hostages captured in April, local officials say.
The hostages were reportedly seized from a yacht between Malaysia and the Philippines. Abu Sayyaf vowed to kill one hostage and demanded a ransom.
The group claimed on Friday the $5.6m (£3.5m) ransom had been paid in full.
The Muslim separatist group also called for an end to German support for the US-led coalition against Islamic State (IS) militants in Iraq and Syria.
However, Germany refused to withdraw its backing for the US action.
The Philippine officials said the two hostages - identified as Stefan Okonek and Henrite Dielen - were released on Jolo Island, about 960km (600 miles) south of the capital Manila.
"They are now safe and secure at an army camp," a police official was quoted as saying by Reuters news agency.
Earlier on Friday, Abu Sayyaf spokesman Abu Rami claimed that the hostages had been freed and the ransom had been paid.
This has not been confirmed by the authorities in the Philippines.
Abu Sayyaf has been active since the early 1990s.
It is a small but violent Islamist militant group which operates in the southern Philippines.
It is considered a "foreign terrorist organisation" by the US, and has been blamed for attacks including beheadings.
Abu Sayyaf is also known to kidnap foreign and local hostages for ransom.
The group said it carried out the 2004 SuperFerry 14 bombing, the Philippines' deadliest terror attack in which 116 people were killed.