China Communist Party plenum begins in Beijing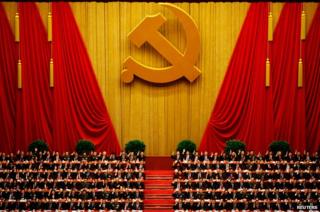 A key meeting of Chinese Communist Party leaders focusing on the rule of law and fighting corruption has begun in Beijing.
The plenum is the annual gathering of the 205 members of the party's Central Committee.
The Chinese Communist Party has nearly 90 million members but power resides with the Central Committee.
Plenums often entail landmark political reforms and are seen as the most important meetings in Chinese politics.
The BBC's China editor Carrie Gracie says that even so, the role of the attendees is merely to nod through the policies set out by Communist Party leader and national President Xi Jinping.
State news agency Xinhua said leaders would deliberate on a draft decision on "major issues concerning comprehensively advancing rule of law".
Last month, after a meeting of the committee's political bureau, the party released a statement emphasising the importance of the rule of law, saying it was needed to "build a prosperous society in all-rounded way" as well as to "comprehensively deepen reform".
Mr Xi has made tackling corruption a hallmark of his presidency since assuming the position in 2013.
However, critics say he does not intend to make the Communist Party itself subject to the law - by, for example, setting up an independent judiciary.
The context for this week's meeting is a crackdown on China's political reformers and the imprisonment of some of the country's most prominent leaders, says our correspondent.
The 2013 plenum unveiled a series of reforms aimed at overhauling China's economy over the next decade.
After the meeting, China's leaders promised the free market would play a bigger role, although state ownership would remain a pillar of the economy.