Freed Vietnam blogger Nguyen Van Hai flies to US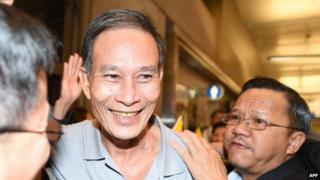 Prominent Vietnamese dissident blogger Nguyen Van Hai has been released from prison and has flown to the US.
Also known by his pen name Dieu Cay, Mr Hai was sentenced to 12 years for conducting anti-state propaganda in September 2012.
US State Department spokesman Marie Harf welcomed the release of "this prisoner of conscience" and said he had "decided himself" to leave Vietnam.
The US has previously called on Hanoi to release all political prisoners.
Mr Hai's former wife Duong Thi Tan told Radio Free Asia that he was taken straight from jail to the airport and put on a plane to the US. She said the family was not informed prior to his release.
Mr Hai was met on arrival at Los Angeles airport by dozens of supporters. "The best message to all the political prisoners who are still behind the communist's bars is that: 'Have faith, you are not alone'."
"Be strong, because you still have support from foreign governments, international organisations and many friends around the world."
He added that his eventual release was "a result of the victory of democratic values".
His son, Nguyen Tri Dung, told BBC Vietnamese that he received a call from his father while he was transiting through Hong Kong. "He told me he is okay," he said.
Mr Hai, a former soldier, had co-founded the Independent Journalists' Club in 2007.
He covered politically sensitive issues, including government corruption and protests against China, according to the World Association of Newspapers and News Publishers, which said he had been in solitary confinement and waged a hunger strike.
He was first arrested in 2008, and was convicted in 2012 for disseminating anti-state information and materials along with two other bloggers.
Mr Hai has consistently denied the charges. The bloggers' cases were adopted by the UN Working Group on Arbitrary Detention, which criticised Vietnamese authorities for curbing freedom of expression.
All newspapers and television channels in Vietnam are state-run and strictly regulated.
Dozens of bloggers, journalists and human rights activists have been jailed in recent years for anti-state activities.
The most recent case saw blogger Pham Viet Dao imprisoned for writing critical posts about the government and the territorial row with China.