South Korea takes down 'Christmas tree' border tower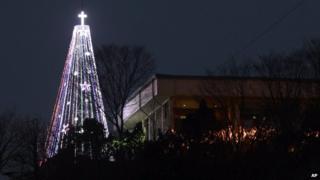 South Korea has taken down a tower at its border with North Korea which has in the past been decorated as a Christmas tree by Christian groups.
The 60ft (18m) tower has previously been covered in colourful lights at Christmas and topped with a cross.
The North, which is officially atheist, saw this as religious and political propaganda and threatened to shell it.
Its removal comes a week after senior military officials from the two Koreas met for the first time in seven years.
Citing a defence official, South Korea's Yonhap news agency said the tower, built in 1971, was being removed because it could collapse.
The official rejected speculation that the demolition had to do with relations with North Korea, and said the tower had been awarded a low grade during a safety check.
US man freed
The tower, which stood about 3km (2 miles) from the border, could be seen by North Koreans living in nearby towns.
The tree was put up by Christian groups, who in some years would put up a giant cross on top. The North had accused the South of using the tree to proselytise.
In 2004, the South stopped allowing groups to erect the Christmas tree, after Seoul and the North agreed to stop propaganda activities by the border.
But it allowed Christian groups to put up the tree in 2010 when a South Korean warship was sunk by what Seoul says was a North Korean submarine.
The two Koreas, separated by the heavily fortified Demilitarised Zone, have technically been at war since the 1950-53 Korean War ended in an armistice rather than a peace treaty.
Two weeks ago, they briefly exchanged gun fire across their land border, in a rare incident after North Korean soldiers approached the demarcation line.
Gunfire was also exchanged recently when a North Korean patrol ship crossed the disputed western maritime border.
Last week, military officers from the two sides met at a border village to try to ease tensions, but no agreement was reached.
The BBC's Stephen Evans in Seoul says the South's decision to finally scrap the tower could be seen as a gesture to the North that provocation needs to be toned down.
News of the tower's demolition came as the North freed Jeffrey Fowle, one of three US citizens currently detained.
Mr Fowle was detained in June as he was leaving North Korea and was charged with "anti-state" crimes. He reportedly left a Bible in a restaurant but his family have insisted that he was not on a mission trip.
The US welcomed his release, and said it was working to secure the release of two other US nationals, Matthew Miller and Kenneth Bae, who remain in detention in North Korea.