Malaysia diplomat appears in New Zealand court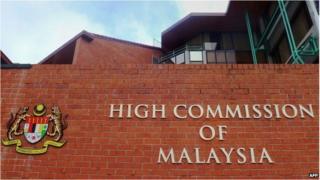 A Malaysian diplomat has appeared briefly in court on charges of attempted rape after being extradited to the New Zealand capital, Wellington.
Muhammad Rizalman bin Ismail was flown there from Malaysia under police escort to face the charges.
When the charges were filed in May, he returned to Malaysia claiming diplomatic immunity.
The move sparked outrage in New Zealand, proving diplomatically embarrassing for both countries.
Malaysia later agreed to send him back to face the charges of burglary and assault with intent to rape.
He was taken into police custody after making a brief court appearance at Wellington District Court on Saturday.
Several members of staff from the Malaysian Embassy also attended the hearing, apparently to offer the diplomat assistance, the Associated Press reports.
Mr Rizalman is due to reappear in court on Tuesday.
Diplomatic immunity
The diplomat had worked at the Malaysian High Commission in Wellington since last year, as the staff assistant for defence.
He is accused of following Tania Billingsley to her home in the suburb of Brooklyn on 9 May and attacking her there.
Ms Billingsley waived her right to have her name suppressed and gave a television interview earlier this year criticising her government's handling of the case.
Mr Muhammad Rizalman's case, particularly the fact that he left the country while awaiting trial, sparked anger in New Zealand and a disagreement with Malaysia on how he was able to exercise diplomatic immunity for his exit.
News outlet Stuff reports that there is an ongoing inquiry into New Zealand 's ministry of foreign affairs and trade after they gave the impression that officials somehow endorsed Mr Muhammad Rizalman's departure.
Malaysia later said it would send him back and added it was confident that he would be given "fair treatment with dignity as provided under the law".