Suspect in beheading of US journalist Daniel Pearl released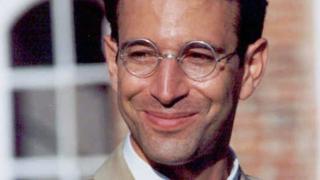 One of the suspects in the murder of American journalist Daniel Pearl has been set free by an anti-terrorism court in Pakistan.
Qari Hashim was detained in 2005 and held in jail in Hyderabad, a southern city in Pakistan, during his trial.
The court acquitted Mr Hashim because of a lack of evidence, his lawyer said.
Pearl went missing in Karachi in January 2002. A month later authorities said he had been killed after receiving video footage of his beheading.
In May 2002, a decapitated body was found in a shallow grave.
DNA test proved it was Pearl, who was South Asia bureau chief at the Wall Street Journal.
Court official Abdul Samih told the BBC that Justice Abdul Ghafoor Memon ordered Mr Hashim to be released immediately.
Omar Sheik, the alleged mastermind of the murder, was sentenced to death in 2002.
Three other men were sentenced to life imprisonment.