South Korea residents try to stop balloon launch to North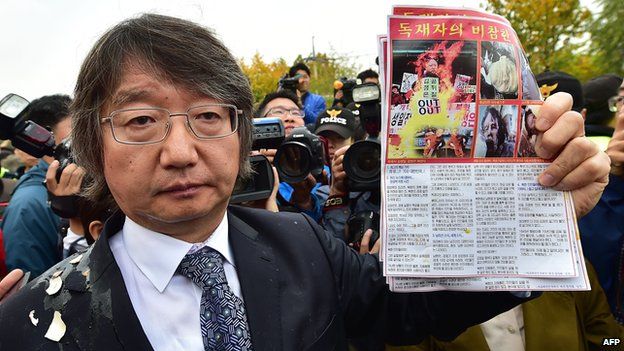 Scuffles have broken out near the tense North Korean border between South Korean residents and activists launching balloons into the North.
Tens of thousands of leaflets carrying messages critical of North Korean leader Kim Jong-Un were released near the South Korean town of Gimpo.
Some local residents tried to stop the activists, throwing eggs and yelling "don't put our lives in danger."
Residents fear leafleting could lead to cross-border exchanges of fire.
North Korea called the activists "human scum" and said the distribution of the leaflets could cause "all-out war".
The North Korean state-run news agency KCNA accused the South of being "conniving" and having a "black-hearted intention".
The activists who sent the leaflets are believed to be mostly defectors who have escaped North Korea.
Based in the South, they have led a long campaign to undermine the rule of Kim Jong-Un.
The balloon-launchers met stiff opposition from counter-protesters at the launch site near Gimpo, delaying the release of the balloons until nightfall.
Some of those opposed to the launch have argued that provoking the North could derail peace talks, while others are fearful of a possible military retaliation.
"Things like this will trigger artillery firing at us," resident Kwon Soon-wan told Reuters.
A similar launch recently led North Korea to try to shoot the balloons down, prompting a brief exchange of fire with the South.
In the latest incident, it was not clear if the balloons reached North Korea.
The two Koreas are separated by the heavily-fortified Demilitarised Zone. They have technically been at war since the 1950-53 Korean conflict ended in an armistice rather than a peace treaty.