Beijing bans Halloween costumes and make-up on metro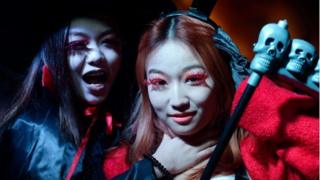 Beijing police say people wearing Halloween-themed fancy-dress on the city's metro system could face arrest, state-run media have reported.
The police warned costumes could cause crowds to gather and create "trouble".
The statement was part of a list of restrictions related to the Asia Pacific Economic Co-operation meetings taking place in Beijing next week.
Security has been ramped up, and traffic controls and road closures are being put in place.
The state-run Beijing News said wearing fancy dress or scary make-up on the underground rail network could cause "panic".
"Public transport police point out, please do not wear strange outfits in subway stations or in train carriages, which could easily cause a crowd to gather and create trouble," it said.
The paper said police had the power to arrest those who "upset order".
"If the chaos is serious and causes a stampede or other public safety incident, the police will deal with it severely in accordance with the law."
The APEC summit is a gathering of world leaders from 24 Asia-Pacific nations.
Similar restrictions were enacted in the run-up to the 2008 Beijing Olympics in Beijing.
Halloween is not celebrated very widely across China as the government discourages spreading "superstition".
However, China's growing middle class is increasingly taking an interest in Western holidays and festivals, says the BBC's Martin Patience in Beijing.