Plan to 'reassemble' flight MH17 to make memorial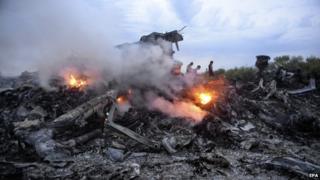 Malaysia's transport minister has said he wants to reassemble the wreckage of flight MH17 and erect it as a memorial to those who died in the disaster.
The Malaysian Airlines plane could then be placed in a public place to commemorate the 298 people who died, Liow Tiong Lai said.
Flight MH17 came down over eastern Ukraine on July 17.
It was believed to have been hit by a surface-to-air missile fired from an area controlled by pro-Russian rebels.
The passenger jet had been flying from the Netherlands to Kuala Lumpur.
The remains of all 44 Malaysians on board have now been identified and brought back for burial with full military honours.
The disaster occurred just four months after the disappearance of Malaysian Airlines jet flight MH370, which vanished on a flight from Kuala Lumpur to Beijing.
Search teams have so far failed to find any trace of the plane, which was carrying 239 passengers and crew.
The Malaysian government was heavily criticised at home for its handling of the flight MH370 tragedy.
Officials are now keen to show they are taking charge, the BBC's Malaysia correspondent Jennifer Pak says.