Beijing bans funeral clothes-burning during Apec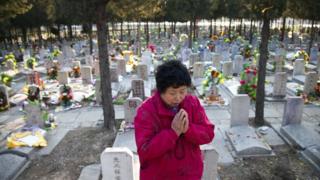 Authorities in Beijing have banned the burning of dead relatives' clothes during the Asia Pacific Economic Co-operation (Apec) summit as an anti-pollution measure, local media report.
The traditional offering is made to ensure deceased loved ones can dress well in the afterlife.
Pollution in Beijing regularly reaches unhealthy levels.
Tight regulations are already in place on polluting factories, construction sites and car use in the capital.
The burning of clothes and other goods is practiced by many in China as part of a ritual to mourn the dead and provide for them in the afterlife.
But a notice at Beijing's Babaoshan cemetery posted on 27 October said that "the incineration of the clothing of the deceased will be suspended" from 1 to 15 November due to Apec, said Beijing News.
The practise is a relatively small source of smoke compared to the heavy air pollution caused by the use of coal to generate electricity and power factories.
However, Chinese authorities have previously targeted these kinds of sources banning, for example, the use of street-side grills.
The Apec gathering of leaders from Asia Pacific nations including the US, Russia and Japan begins in Beijing on Wednesday.
Government workers in the city have been given an extended holiday, all construction work has been halted and half of all private vehicles have been banned from roads in an attempt to rein in pollution levels.
Hebei province which borders Beijing has also suspended productions at companies and construction sites, according to state-run media.
China Daily newspaper said on Tuesday that air quality had already improved.
Last month, thousands of thousands of participants in the 34th Beijing International Marathon ran wearing face masks because of heavy smog.
Estimates said that pollution had soared above the maximum recommended World Health Organization levels, forcing many runners to pull out.