Exhumed Myanmar journalist Aung Naing 'beaten'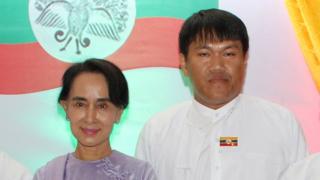 A Burmese freelance journalist killed in army custody may have been beaten before he died, reports say.
Aung Naing's body was exhumed and has been sent for post mortem examination.
He was shot dead in army custody on 4 October after being arrested reporting on clashes at the Thai border.
The army said he was working for a rebel army and that they shot him trying to escape. But his wife's lawyer and others present at the exhumation said his body had extensive injuries.
If the initial observations of lawyer Robert San Aung are confirmed at post mortem they appear to support claims that Aung Naing was tortured prior to his death, the BBC's Jonah Fisher in Yangon says.
The military has said it will investigate his death.
Aung Naing's wife, Than Dar, travelled to Kyaike Mayaw township in Mon state along with lawyers and witnesses to identify his body. He was then taken to a hospital for further forensic examination.
Our correspondent says Aung Naing's loved ones want the truth as to why he died and why the army then buried his body so quickly.
Myanmar, also known as Burma, has seen three years of reforms. But Aung Naing's death has led some to question whether the army has changed.
The army had accused Aung Naing of working as a "communications captain" for an ethnic Karen rebel faction.
He had often reported on ethnic issues along the Myanmar-Thai border for local newspapers, and had met opposition leader Aung San Suu Kyi several times.
The circumstances of his death provoked international concern, with the United States last week calling on Myanmar to conduct a "credible and transparent investigation".
Burmese President Thein Sein said the country's human rights commission would investigate the shooting.
Thein Sein, a former leader of the military junta that transitioned towards a civilian-led government, has been responsible for several press reforms including releasing jailed journalists and getting rid of pre-publication censorship.