Jens Stoltenberg: New Nato chief in first Kabul visit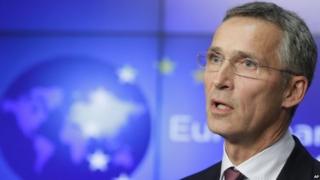 New Nato chief Jens Stoltenberg has made an unannounced trip to Afghanistan in his first visit to the country since taking office last month.
The former Norwegian prime minister visited a training centre for Afghan forces and addressed Afghan troops.
He reinforced Nato's commitment to training and advising local forces after Nato combat troops withdrew by the end of this year.
About 12,500 soldiers, mostly American, will remain to continue training.
"Next year, we will open a new chapter. The future of Afghanistan will be in Afghan hands, but our support will continue," Mr Stoltenberg said in a press conference after meeting President Ashraf Ghani and Chief Executive Officer Abdullah Abdullah.
The alliance chief also said that the end date for Nato's mission in Afghanistan had yet to be decided.
For his part, President Ghani said he had accepted an invitation to attend the Nato ministerial meeting in December in Brussels.
Last Sunday, the last US Marines unit and UK combat troops officially ended their Afghan operations, handing over security responsibility to local forces.