South Korea lawmakers vote to disband coast guard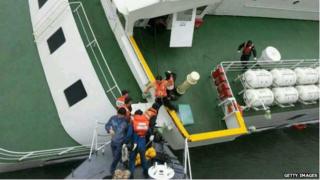 South Korea's national assembly has voted to disband the coast guard, which was heavily criticised for its handling of the Sewol ferry disaster.
A new safety agency will be set up and police will take over the coast guards' responsibilities.
The Sewol was carrying 476 people, mostly high school students, when it capsized in April. More than 300 died.
There was widespread criticism of the rescue effort and the government's response to the disaster.
Critics say that the coast guard did not act swiftly or aggressively enough to save lives.
In August, coast guard officers testifying at an ongoing trial of ferry crew members said they had not had the right training or equipment to rescue passengers.
MPs also voted on Friday to dismantle the National Emergency Management Agency. Both bodies will now be brought into a new safety agency tasked with establishing a comprehensive disaster response system.
President Park Geun-hye had announced in May plans to disband the coast guard and criticised its performance.
Legal action
In the package of bills passed, parliament also approved the setting up of an independent investigation into the cause of the Sewol disaster, a demand of the victims' families.
Measures will also be passed to "swiftly retrieve the wealth of those found to be responsible for people's deaths", the Yonhap news agency reported.
Under current laws, the authorities have been unable to retrieve wealth accumulated by the Sewol's late owner Yoo Byung-eun because some had been given to family members.
Mr Yoo's family owns Chonghaejin Marine Co which operated the Sewol. Authorities say that corruption played a part in the sinking, as the company ignored safety warnings and allowed the ship, which had been illegally redesigned, to be overloaded.
Three of Yoo's relatives were given jail sentences this week for embezzlement. Yoo himself was found dead earlier this year after going on the run.
A French court is due to decide in December whether to extradite daughter Som-na, who has been held in Paris, to face embezzlement charges.
More then 50 people are on trial in connection with the disaster including the ferry captain, Lee Joon-Seok. Prosecutors have called for the death penalty for him if convicted.