Japan man self-immolates 'in protest over military shift'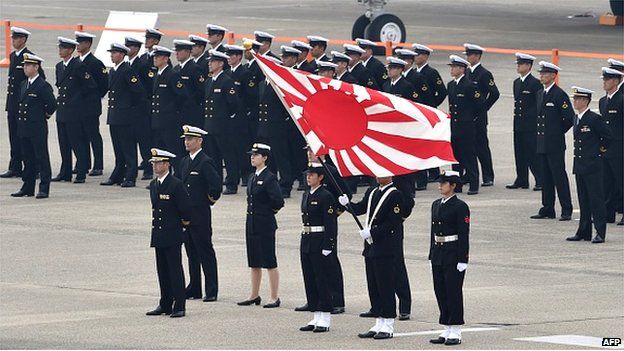 A Japanese man burned himself to death on Tuesday in what appeared to be protest against a shift in military policy, local media said.
The cabinet in July approved a landmark change in security policy allowing the military to fight overseas.
Japan's post World War Two constitution bars the country from using force in conflicts except for self-defence.
The incident follows another self-immolation in June, in an apparently similar protest. The man survived.
Police sources told local media that they found a man on fire in Tokyo's Hibiya Park near parliament and government offices on Tuesday night, after they received an emergency call.
He died after he was taken to hospital.
Local media quoted investigators as saying they considered the case to be suicide and reported that the man left behind a protest note and a video camera. Police declined to confirm such details.
The note was reportedly addressed to Prime Minister Shinzo Abe and top lawmakers, and protested against the military policy shift.
Mr Abe had been lobbying for Japan to adopt collective self-defence, which is the use of force to defend allies under attack.
The cabinet approved a controversial reinterpretation of the constitution to allow for this shift in July, sparking significant opposition and protests drawing thousands. It also further angered neighbours such as China and South Korea.
But some argued that the move was needed, pointing to Japan's constitution as a post-war relic imposed by the US that restricts Japan from engaging in the normal activities of a modern nation.
Mr Abe has defended the decision as a "strictly defensive measure" and emphasised that it would not lead to Japan becoming involved in foreign wars.
Ahead of the July decision, a man tried to immolate himself in June on a walkway in Shinjuku in protest.
Also on Tuesday, there were reports that Mr Abe could be planning to call a general election as early as December, amid concerns about Japan's slow economic recovery and ahead of a planned increase in sales tax.
An election is not due until 2016 but major parties have begun preparations for a snap vote, local reports say.
What is collective self-defence?
In the past Japan could use force only in self-defence. Under the change, Japan's military will be able to come to the aid of allies if they come under attack from a common enemy
Other conditions would apply, according to reports, including that there should be a clear threat to the Japanese state and that people's right to life and liberty could be subverted
Examples from officials of "collective self-defence" could include Japan shooting down a missile fired by North Korea at the US and Japan taking part in mine-sweeping operations in key sea lanes during a conflict
Japan's PM says the change does not mean taking part in multilateral wars, like the US-led war in Iraq