Suicide blast kills two at Kabul's foreign compound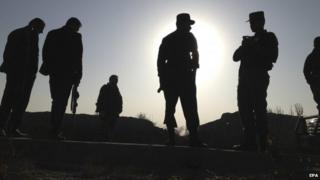 At least two security guards have been killed in a suicide car bomb attack at a foreign-run compound in Afghanistan's capital Kabul, local officials say.
The attacker rammed his explosives-laden vehicle on the eastern outskirts of the city early in the morning. The guards are believed to be Afghans.
The area houses a number of facilities belonging to foreign companies as well as international military bases.
Taliban militants later claimed responsibility for the blast.
"It was a bomb in a small truck at the gate of a foreign base. Initial reports show two guards killed, several wounded," Najib Danish, deputy spokesman for the ministry of interior, told the AFP news agency.
A huge plume of smoke was seen after the blast, which was heard across the capital, the officials said.
Kabul has been hit by a series of attacks in recent weeks.
Last Sunday, a suicide bomber targeted a prominent female Afghan politician, killing three civilians and wounding others in an attack on a Kabul convoy.
Shukria Barakzai, a women's rights advocate and ally of new President Ashraf Ghani, was slightly injured in the attack.
A week earlier, a suicide attacker entered the offices of Kabul's police chief in one of the most fortified areas of the capital and killed a senior officer.