Japan cuts Antarctic whale hunt target in new programme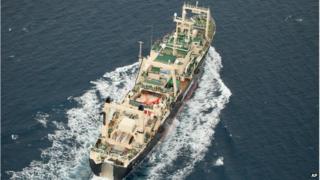 Japan has cut by two-thirds the number of whales it plans to catch each year in the Antarctic under its controversial whaling programme.
The target is now 333 minke whales annually, down from 935, and no other type of whale will be hunted.
Japan signed the 1986 global whaling moratorium but continues to hunt for what is says are research reasons.
It suspended whaling in the Southern Ocean this year after an International Court of Justice ruling.
The court said the hunt was not conducted for scientific purposes.
Japan argues that minke whales and other species are plentiful, and its whaling activities are sustainable. But critics say the annual hunt is a cover for commercial whaling.
In the 2013/2014 hunt, the fleet killed 251 minke whales in the Antarctic, far below its target, after it was repeatedly obstructed by anti-whaling activists.
Humpbacks spared
The ICJ's ruling in March said Japan should withdraw all permits for Antarctic whaling and refrain from issuing new ones. It noted that Japan had caught about 3,600 minke whales since 2005, but that the scientific output was limited.
---
The Legalities of Whaling
Objection: A country formally objects to the International Whaling Commission (IWC) moratorium, declaring itself exempt. Example: Norway
Scientific: A nation issues unilateral "scientific permits"; any IWC member can do this. Example: Japan
Indigenous (aka Aboriginal subsistence): IWC grants permits to indigenous groups for subsistence food. Example: Alaskan Inupiat
---
Japan agreed to abide by the ruling and stopped its 2014/2015 whale hunt. But it later said it planned to resume hunting in the following fiscal year.
On Tuesday, Japan announced it had submitted a new plan to the International Whaling Commission (IWC) for approval.
Besides cutting its overall target, it will no longer kill fin whales and humpbacks, and will expand non-lethal research methods, said Kyodo news agency.
"We hope to earnestly explain this new plan in order to win understanding from other nations in the world," fisheries minister Koya Nishikawa told reporters.
The research period will last 12 years, after criticism from the ICJ over the open-ended nature of the programme.
Japan continues to catch whales in the Pacific Ocean and off the Japanese coast, where the ICJ's ruling does not apply.
The meat of slaughtered whales is sold commercially. Whale meat used to be widely eaten in Japan but it has dropped in popularity in recent years.