Nine dead after Thailand military helicopter crash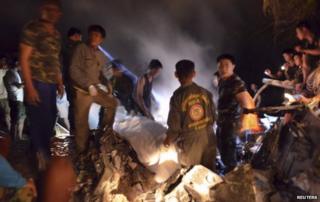 The bodies of nine army personnel have been recovered after their helicopter crashed killing all on board in northern Thailand, authorities said.
The twin-engine Bell 212 helicopter crashed minutes after taking off on Monday from an army camp in Phayao province, 590km (370 miles) from Bangkok.
It was found by villagers, engulfed in flames in a rubber plantation.
The cause of the crash was still being determined, the army said.
Soldiers were dispatched to recover the bodies shortly after the crash. One of those on board was a regional commander.
The bodies, some badly charred were taken to a provincial hospital, Provincial Governor Chuchad Keelapaeng told AFP new agency.
In 2011, the Thai army was forced to ground its fleet of Bell 212 helicopters after three helicopter crashes just days apart left 17 people dead.