Thai arrest warrants issued for 'body parts' Americans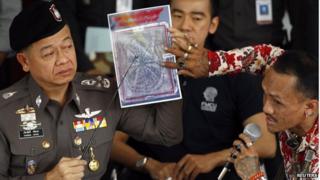 Thai police have issued arrest warrants for two American men who tried to post baby body parts to the United States.
The two men, Ryan McPherson and Daniel Tanner, have reportedly left for neighbouring Cambodia.
They were detained earlier but police released them after concluding that they had not broken laws, apart from violating customs rules.
The men said they bought the items, which were stolen from a Bangkok hospital, from a night market.
On Tuesday, the police said they had seized parcels containing a baby's head, a baby's foot sliced into three parts, an adult heart with a stab wound, and pieces of adult human skin with tattoos.
The packages were found by staff at a DHL depot when they X-rayed several packages labelled as toys and bound for Las Vegas.
Siriraj Hospital in Bangkok has since reported that the human remains were stolen last week from its forensic medicine museum.
'New elements'
Mr McPherson and Mr Tanner were questioned over the weekend but were let them go.
Police now want to arrest them as "new elements" have emerged after their departure, said the head of Bangkok's investigation bureau Sombat Milintachinda.
"Our evidence indicates that they either stole the body parts, or they bought them from other people," he was quoted by the AP news agency as saying.
Mr McPherson and Mr Tanner are facing charges of theft, possession of stolen items, and falsely declaring items on shipping documents.
Thai authorities have asked Cambodian police and the FBI in the US to help them track down the men.
The BBC's Jonathan Head in Bangkok says that according to details given by the police, the two men appear to have been part of a team that made notorious videos in the US a decade ago, showing homeless people fighting one another.