Solomon Islanders vote in first post-Ramsi election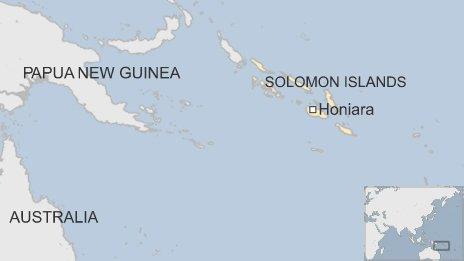 People in the Solomon Islands have voted in the first parliamentary elections since an Australian-led military peacekeeping mission ended.
Some 280,000 voters are registered, with polls open from 07:00 local time (20:00 GMT Tuesday) until 17:00.
The Pacific nation experienced more than a decade of ethnic violence, but has stabilised in recent years.
More than 1,000 police have been deployed but there were no reports of unrest during voting.
Voters began queuing in the capital, Honiara, in the early hours of the morning.
Hundreds of candidates - both independents and members of the 12 registered political parties - are running for 50 seats in parliament.
Prime Minister Gordon Darcy Lilo, who has been in power since 2011, is expected to remain in office. The counting of ballots is expected to take several days.
The election is being overseen by a Commonwealth observer mission, including three Australian MPs.
Ethnic violence and lawlessness between 1998 and 2003 saw tens of thousands lose their homes.
Though there was a further outbreak of violence in 2006 and recurrent political instability and lawlessness, the country was considered stable enough for the military part of the mission to end last year.
Ramsi now operates a policing operation, alongside the Solomons' domestic police force.
About 90 extra Ramsi officers have been deployed for the elections, but mission co-ordinator Justine Braithwaite said they were only there to support local police.
"The bulk of the force has been recruited since the tension era which means you have got about 70% of the force's officers still relatively new," AFP news agency quoted her as saying.
The Solomon Islands, a former British protectorate, has been hit by successive global food, fuel and financial crises and is one of the Pacific's poorest countries.
Related Internet Links
The BBC is not responsible for the content of external sites.