Malaysia diplomat denies New Zealand assault charges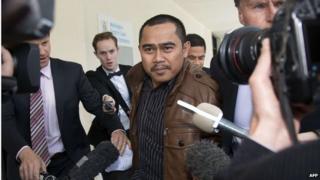 A Malaysian diplomat accused of sexual assault and burglary in New Zealand has pleaded not guilty to his charges in Wellington on Friday.
Muhammad Rizalman Ismail also chose to have a jury trial. He remains out on bail but has surrendered his passport.
He was extradited to Wellington last month from Kuala Lumpur.
Mr Muhammad Rizalman had claimed diplomatic immunity and left New Zealand in May shortly after he was charged, sparking outrage.
The incident embarrassed the two countries, which initially disagreed on how he was allowed to leave.
New Zealand later conceded its officials could have given the impression that they had no objections to his departure. The government is now conducting an inquiry.
Malaysia agreed to send Mr Muhammad Rizalman back to face charges.
The 38-year-old diplomat had worked at the Malaysian High Commission in Wellington as the staff assistant for defence.
He is accused of following Tania Billingsley to her home in the suburb of Brooklyn on 9 May and attacking her there.
He faces has a maximum penalty of 10 years in jail if convicted of burglary and assault with the intent to rape.
Ms Billingsley waived her right to have her name suppressed and gave a television interview earlier this year criticising her government's handling of the case.