Why has Myanmar dropped proportional representation plans?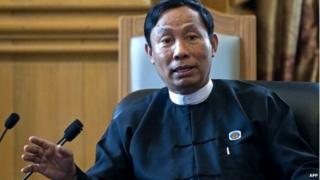 A week ago as Aung San Suu Kyi and US President Barack Obama were meeting in Yangon, a piece of largely unreported news slipped out of the capital, Nay Pyi Taw.
The speaker of the Hluttaw (the Burmese parliament), Shwe Mann, announced that efforts to introduce proportional representation (PR) before the next election were being quietly dropped.
The news was sudden and strange, and left many wondering what it meant.
Often something out of the blue can mean a major development behind the scenes.
Was this an indication that a deal had been struck to end Myanmar's most pressing political problem - the "what happens next" question?
What if Aung San Suu Kyi's party, the National League for Democracy (NLD), wins next year's election but she is still barred from becoming president?
Major changes
Shwe Mann justified his announcement on PR by saying that he had corresponded with Myanmar's Constitutional Tribunal and they had told him a switch to the new electoral system would be unconstitutional.
Let us just unpick that for a second.
The Hluttaw has been separately discussing amending the constitution and there is talk of a referendum in May to endorse any major changes.
It has dismissed removing the clause that stops Ms Suu Kyi becoming president but other alterations are being considered.
So just because PR is not in line with the current laws, it does not mean it could not have been included in the parliamentary review and made constitutional.
So if Shwe Mann had really wanted PR, he could surely have found a way.
Popular support
Perhaps he just does not like the system.
Historically Myanmar's politicians have shown little interest in shifting to PR, but like turkeys in the run up Christmas, next year's election has focused and changed minds.
Plenty of MPs in Shwe Mann's party, the USDP, saw a new system as a chance for them to survive.
Almost everyone expects that Aung San Suu Kyi's party, the NLD, will win next year's election.
Under the current first-past-the-post system, that could mean the current ruling party, the USDP, being close to wiped out.
In the by-elections of 2012, for example, the NLD won 43 of the 44 seats being contested.
No one is expecting a result quite on that scale, but there is no real reason why popular support for the NLD will have significantly fallen.
If that by-election result was repeated in 2015 under PR, the USDP would have retained perhaps 15% of the Hluttaw seats. Then, with the support of the army representatives (25% of the seats) and a coalition of ethnic parties, they might even have scraped a majority.
You can see why Ms Suu Kyi and the NLD are keen to keep first-past-the-post.
So if it might have saved his party, why did Shwe Mann dismiss PR so categorically?
Credible democracy?
An ambitious, pragmatic man, he knows that there is likely to be a leadership vacancy this time next year.
The constitution is almost certain to continue to stop Aung San Suu Kyi from becoming president, so if her party, the NLD wins, they'll be looking for another candidate to back.
One oft-discussed scenario could see Shwe Mann becoming president while Ms Suu Kyi takes over as speaker of an NLD-dominated Hluttaw.
A coalition national unity government lead by a former general would hardly represent democracy in action but it would reassure both the army and foreign investors.
Over the last few months the impression has grown that Ms Suu Kyi no longer sees the 2015 election as the end destination - the single transforming moment when Myanmar becomes a credible democracy.
Her efforts to reduce the military's grip on the parliament and the constitution appear to have failed for now - and the clause excluding her from the presidency remains firmly in place
So Ms Suu Kyi's focus is shifting to the need for timely and credible elections next year. She is hoping that armed with a majority in parliament, she can try again for further changes.
So did Shwe Mann ditch PR to cosy up to Ms Suu Kyi? Or have they already privately reached an understanding?
Could a democracy icon really endorse a former general - after he lost an election - for the position of president?
With a year to go, across Myanmar the political permutations are being crunched.