Pilgrims flock to Goa to see Saint Francis Xavier remains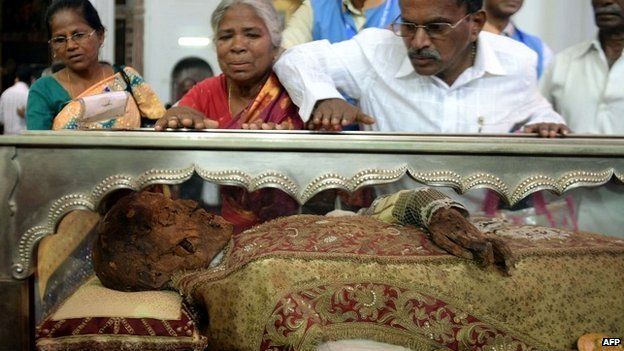 Thousands of Catholic pilgrims are converging on Goa in west India to see the relics of Saint Francis Xavier.
The remains of the 16th Century Spanish missionary are usually kept in a casket at the Basilica of Bom Jesus.
Once every 10 years they are put on public display, and on Saturday the casket was brought out in procession and taken to the nearby Se Cathedral.
Hundreds of thousands of people are expected to travel to Goa to see the relics in the coming weeks.
'You can feel the energy'
After a celebratory Mass on Saturday led by Indian archbishops, thousands lined up to kiss the relics as the procession began amid tight security.
Brooke Harrods, a visitor from the US, said she had made the trip because the saint was "an embodiment of peace," adding: "You can really feel that energy here today".
One of the first Jesuit missionaries, Francis Xavier worked extensively in Asia, especially within the Portuguese empire of the time, and was canonised 70 years after his death, in 1622.
The relics will be on display in the former Portuguese colony until 4 January.