Philippines convicts Chinese fishermen of poaching rare turtles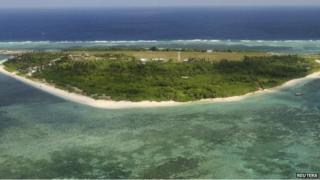 A court in the Philippines has found nine Chinese fishermen guilty of poaching and catching an endangered species in the South China Sea.
Police found more than 500 sea turtles on their boat when the fishermen were intercepted at sea in May.
They were stopped at a shoal near the Spratlys, a chain of islands which both China and the Philippines claim.
The fishermens' arrests has strained relations between both countries. China has demanded their release.
Philippines authorities had caught 11 fishermen on the boat, but later released two of them as they were found to be minors.
The remaining nine were each fined $100,000 (£63,800) for poaching and 120,000 pesos ($8,800; £5,600) for taking protected wildlife by a court in Palawan province on Monday.
If the fishermen cannot pay the fine, they will have to serve a jail sentence and can only be freed in May 2015.
The Philippines' foreign affairs spokesman Charles Jose said the court's decision should not further complicate ties with China, and told AFP news agency: "This is a purely law enforcement matter."
But China had said the fishermen were in Chinese territorial waters and that the arrests were a "provocation". It had warned of retaliation if they were not released.
The arrests came at the height of tensions in the South China Sea among China and several South East Asian countries over maritime disputes.
The Philippines has filed a case against China's maritime territorial claims with an international tribunal. China has refused to take part in the arbitration.
Last week, China's defence minister Chang Wanquan said his country was considering opening defence hotlines with South East Asian countries to manage disputes.