Thai royalty 'defamed': Top policeman charged in probe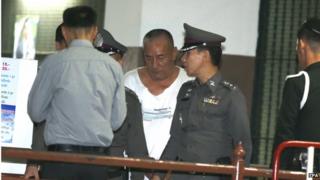 A third top Thai police officer has been charged with insulting the monarchy during a major investigation.
Pongpat Chayaphan, the ex-head of the Central Investigation Bureau, and two other senior officers face charges of lese majeste, bribery and corruption.
On Tuesday police showed reporters pictures of goods worth millions of baht allegedly found in their homes.
They are among seven officers in total held during the investigation, which has also seen five civilians arrested.
Thailand's lese majeste rules are among the world's strictest defamation laws. Anyone convicted of insulting the royals faces up to 15 years in prisons for each count.
Critics however say that the law has been used for political purposes, including to stifle dissent.
Mr Pongpat, his deputy Kowit Wongrungroj and the former marine police chief Boonsueb Praithuen are accused of referring to the monarchy in illicit deals.
"The suspects had been making false claims to gain benefits through police promotions, illegal gambling and illegal oil trading," national police chief Somyot Poompanmoung said at Tuesday's press conference.
Police officers had raided 11 safe houses in Bangkok and around the country, seizing large amounts of assets.
They showed pictures of luxury cars, gold jewellery, ivory tusks, gold ingots, paintings and antique Buddhist statues, and stacks of Thai currency.
On Monday, a website editor was convicted by a military court of lese majeste and sentenced to four-and-a-half years in prison.
Nut Rungwong, the editor of the website Thai E-News, had published an article in 2011 written by Giles "Ji" Ungpakorn, a Thai academic who is also wanted for lese majeste and currently lives in England.
---
Analysis: Jonathan Head, BBC News, Bangkok
What are we to make of the dramatic arrest of so many senior police officers, of allegations of massive wealth and corruption, and charges of insulting the monarchy?
The military government that seized power six months ago has promised to rein in corruption, but until now had little to show for this.
But why the serious charge of lese majeste? And why did one suspect, the key to this network we have been told, jump to his death from a tall building after being arrested?
The police accuse the suspects of somehow using the monarchy in their gambling and smuggling deals. But how could they do that? No ordinary police officer would be able to pretend that they had a connection to the royal family to advance their business interests.
As a journalist based in Thailand, the lese majeste law bars me from even mentioning what every local journalist is quietly saying this is about. This is an especially sensitive time, with King Bhumibol's health so visibly frail.
I know this will be infuriating for readers eager to understand some of the hidden currents swirling in post-coup Thailand, a country whose future is still clouded with uncertainty. But I am afraid that is a reality of working here.
Any suggestion that this purge is somehow connected to the monarchy must be left unexplored, unconfirmed, and undiscussed.
---