Bangladesh 'Hajj critic' AL Siddique is arrested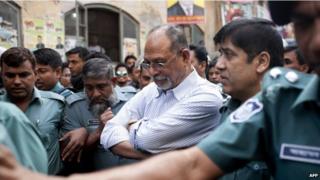 A senior Bangladeshi politician who criticised the annual Hajj pilgrimage made by Muslims to Mecca has been arrested in Dhaka.
Abdul Latif Siddique was denied bail and sent to jail on charges of insulting Islam.
Mr Siddique returned from India on Sunday after a long trip abroad.
Calls for his arrest came after he told a gathering in New York in September that he was "dead against the Hajj". He was subsequently sacked as a minister.
His comments triggered an angry reaction among hard line Islamist parties, who staged protests.
They and other opposition political parties demanded the former telecommunication minister's immediate arrest.
'An apostate'
Television footage from the US showed Mr Siddique telling a Bangladeshi expatriate audience in New York that he opposed the Hajj, and that the Prophet Mohammed had established it partly for commercial reasons.
"Two million people have gone to Saudi Arabia to perform Hajj. [It] is a waste of manpower. Those who perform Hajj do not have any productivity," he said.
"They [Hajj pilgrims] deduct from the economy [and] spend a lot of money abroad."
After Mr Siddique's remarks were broadcast, hard line Islamist group Hefajat-e-Islam declared him "an apostate".
More than 20 cases were filed against him on charges of hurting the religious sentiments of Muslims. A court also issued several warrants for his arrest, prompting Mr Siddique to prolong his stay in the US and India.
Islamist groups issued a 24-hour deadline for the government to arrest him soon after his return to Bangladesh. Some have even called for him to be executed.
He has yet to be charged since handing himself in to police.
In an interview with the BBC in India in October Mr Siddique said that his comments were made in an informal briefing and not in front of a large audience. He expressed regret that he had "embarrassed" his leader.
Mr Siddique, 77, fought for Bangladesh's independence from Pakistan in 1971. He was a trusted aide to Prime Minister Sheikh Hasina, who has voiced her displeasure over his comments.
Feminist writer Taslima Nasreen was also accused of "hurting the emotions of Muslims" in her writings of the early 1990s. She had to flee the country following a public outcry and now lives in India.