Japan reporter denies libelling S Korea's Park Geun-hye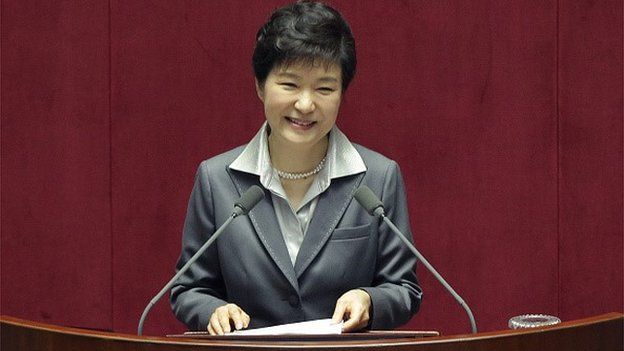 A Japanese journalist has gone on trial in South Korea accused of defaming President Park Geun-hye, a charge that could result in seven years in jail.
In a report in Japan's Sankei Shimbun, Tatsuya Kato repeated rumours that Ms Park was spending time with a man on the day of the Sewol ferry disaster.
Mr Kato denies the charge and says the report was in the public interest.
The decision to prosecute has been criticised by local journalists and Japanese diplomats.
During his appearance at the Seoul Central District Court, Mr Kato, the Sankei's former Seoul bureau chief, said he had no intention to defame the president.
"I only intended to inform Japanese readers of the Korean people's perception about the president following the Sewol ferry disaster," he said.
Analysis: Stephen Evans, BBC News, Seoul
The case has caused friction between South Korea and Japan, a relationship which was hardly smooth before the incident.
Japanese diplomats allege the Korean courts have been heavy-handed. They wonder if the prosecution was politically motivated because the subject of the rumours was the president and because the accused is Japanese.
Seoul replies that the Japanese article was no more than the recycling of untrue rumours.
The case has an added dimension because some Korean journalists detect an authoritarian tendency in the government of President Park Geun-hye.
Earlier in the year, it emerged that the South Korean authorities may have monitored messages over an internet messaging service. President Park said there was a duty to stop the spread of information which "polarised society".
South Korea's democracy seems robust. The row over the journalist can be seen as the vigilance of those who fear a slicing away of press freedom.
The Sewol ferry disaster on 16 April killed more than 300 people, mostly teenage school students on a school trip.
The government was widely criticised for its handling of the tragedy, and South Korean media had questioned Ms Park's whereabouts.
Ms Park's office has denied she was with a former political aide at the time.
A prosecutor told the court that Mr Kato defamed Ms Park by portraying the alleged meeting as if it was established fact.
Relations between South Korea and Japan are at a low point.
They are embroiled in a territorial dispute, and disagreements over their wartime history.