Japan paper Yomiuri Shimbun retracts 'sex slaves' references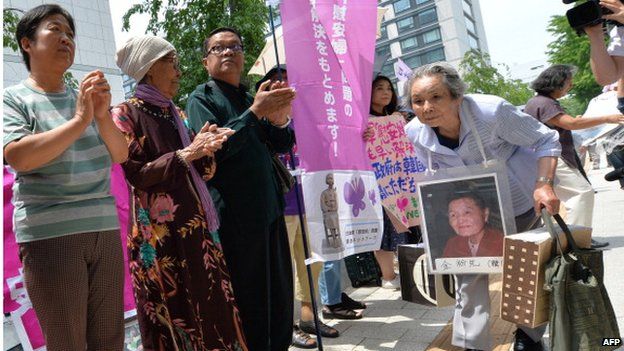 Japan's biggest newspaper has issued a controversial apology for using the term "sex slaves" when referring to women who worked in brothels set up for Japanese soldiers in World War Two.
Yomiuri Shimbun said its English version should not have used the phrase as it implied the women were coerced.
Japan apologised in 1993 for forcing thousands of women, many from China and South Korea, into army brothels.
But some conservatives in Japan want that admission reassessed.
Pressure from conservatives within Japan to reconsider the apology to the women, who have been referred to euphemistically as "comfort women", has angered neighbouring Asian nations.
Some 200,000 women in territories occupied by Japan during World War Two are estimated to have been forced to become sex slaves for troops.
Analysis: Rupert Wingfield-Hayes, BBC News, Tokyo
This is definitely another victory for Prime Minister Shinzo Abe and his right-wing nationalist supporters. They have long sought to change the way Japan views its World War Two history.
Earlier this year it was revealed that the Abe-appointed leadership at Japan's national broadcaster, NHK, had issued new guidelines for its English language news channel that stated the words "sex slave" should no longer be used in news reports when referring to comfort women.
In August the left-of-centre Asahi newspaper retracted a series of articles it had published about the comfort women issue based on the testimony of a Japanese author Seiji Yoshida. In his testimony Mr Yoshida claimed he took part in the abduction of young women on the Korean island of Jeju during World War Two. Mr Yoshida's evidence was later shown to be false. Right wing nationalists immediately pounced on the Asahi retraction claiming it proved the whole "sex slave" story was a myth.
In September the Japanese government used the Asahi's retraction as justification for asking the United Nations Human Rights Commission to modify its 1996 report on the issue. Radhika Coomaraswamy, the UN Special Rapporteur who wrote the 1996 report, has refused.
Although many of the women came from China and Korea, some were also from the Philippines, Indonesia and Taiwan.
In a statement run in both Yomiuri's Japanese edition and its English edition called The Japan News, the newspaper said that the expression "comfort women" was difficult for non-Japanese to understand.
It made the statement in reference to 85 articles which appeared between February 1992 and January 2013, said Yomiuri.
In the early 1990s, the government conducted an investigation which concluded that the women were "were recruited against their own will" and "lived in misery at comfort stations under a coercive atmosphere."
Earlier this year, it said it would set up a panel to review the evidence for this apology, sparking anger from South Korea and China. But Prime Minister Shinzo Abe said in March he would not revise the apology.
Three months later, the government panel concluded that South Korea was involved in the formulation of the apology, sparking fresh criticism from its neighbours.