Taiwan's ruling KMT faces tough challenges after big defeat
By Cindy Sui
BBC News, Taipei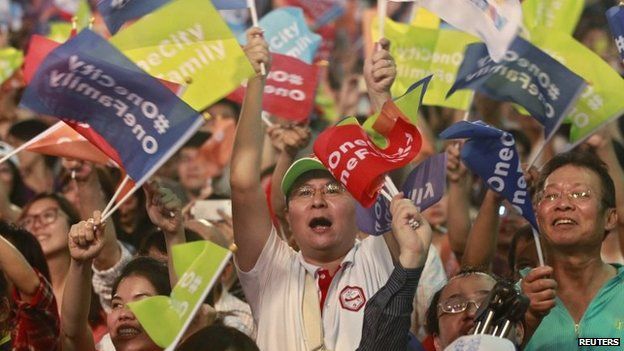 Chiang Yun-hsing, a 58-year-old yoghurt salesman, and his wife have only ever voted for Taiwan's ruling Kuomintang (KMT) party.
But in the country's largest ever local elections, which were held on Saturday, their 21-year-old son - a first-time voter - cast his ballot for the opposition Democratic Progressive Party (DPP).
Even Mr Chiang said he might not vote for the KMT in future elections.
"In the past, we felt the KMT was able to get things done. The DPP seemed to waver a lot. We also wanted life to be stable; we didn't want war [with China], but now we no longer vote for the KMT without question," said Mr Chiang.
"If the KMT's candidate seems to have too strong a connection with big businesses, we won't vote for them."
The Chiang family's views give an idea of the serious challenges that the KMT is facing.
Taiwan's 23 million people have been through a change of party and back.
After the KMT lost the presidency in 2000, and then won it again in 2008, voters are once again disappointed and eager for change.
Voters expressed their disappointment in Saturday's poll by electing KMT candidates in only six cities and counties, compared with the DPP's 13. Prime Minister Jiang Yi-huah and his cabinet quit soon afterwards.
Many voters no longer feel loyalty toward one party or the other.
In the past, long-time Taiwanese, whose ancestors came to Taiwan centuries ago, favoured the DPP.
Those whose families fled here from China at the end of the civil war supported the KMT, but that is less the case now.
Analysts believe this is a positive step in the development of Taiwan's young and hard-won democracy.
"In this election, there were many independent voters, who broke away from the previous blue (KMT) versus green (DPP) plates," said Wang Yeh-lih, a political science professor at National Taiwan University.
"They were not held hostage by the traditional blue and green rivalry."
Perhaps the strongest reflection of this was the victory of Ko Wen-je as Taipei mayor.
Even though he had no prior political experience, Mr Ko, a straight-talking and accomplished surgeon, ran as an independent and defeated the KMT's Sean Lien, who comes from one of the most politically influential families in the party.
By choosing Mr Lien as its candidate, the KMT showed perhaps a failure to understand its serious image problem.
"We feel the KMT's people don't understand what ordinary people are going through," said Peter Kao, a retiree.
"Their thinking seems far removed from that of average people."
A big turnout by young voters is also believed to have contributed to the KMT's heavy losses.
These voters are most concerned about social injustice, including the widening wealth gap, corruption, and unfair land appropriations.
They blame the KMT for these problems.
"The general feeling among the young people I know is not to vote for the KMT, not necessarily just because of its pro-China policies, but its policies toward Taiwan are not good; it stands on the side of corporations and capitalists," said Jason Chien, a college student.
The KMT will need to not only address these concerns, but also promote its younger members through the ranks, analysts say.
The focus will now turn to the 2016 presidential and legislative races.
Although the DPP's victories put it in a good position, supporters of independent candidates such as Mr Ko do not necessarily like the DPP.
The party will also have to convince voters that it can maintain Taiwan's currently good relations with China - an issue it was able to skirt round in the local races.
Many ordinary people are starting to realise that changing the party in power without changing the system does not solve problems.
The system favours the haves, not the have-nots.
One example is that property taxes are unbelievably low, fuelling speculation which drives up prices and makes it difficult for young people to buy a home.
"There's a saying here, 'we are masters for one day (election day), but slaves for the next four years'," said Mr Kao.
The people, however, are also responsible for the problems in the system.
Efforts by President Ma Ying-jeou to ease income inequalities, for example by cutting retired civil servants' year-end bonuses, backfired.
Low voter turnout by civil servants is believed to have cost the KMT votes from a group that has traditionally supported the party.
"We can change parties all we want, but if the system is not changed, it'll be the same thing over again," said Mr Kao.