South Korea trawler: Hopes fade for 52 missing sailors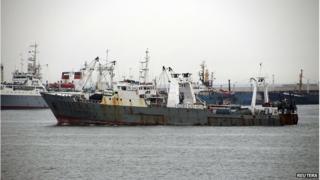 Hopes are fading of finding survivors from a South Korean ship which sank off Russia on Monday.
Overnight searches for 52 missing crew members proved fruitless and at least one empty lifeboat has been found, said South Korean and Russian officials.
Seven people were saved when the trawler Oryong 501 sank in Bering Sea off the Chukotka peninsula.
South Korea's Prime Minister Chung Hong-won has said he is "heartbroken" about the incident.
The 36-year-old trawler, which weighed nearly 2,000 tonnes and was operated by Sajo Industries, was fishing for pollock when it ran into trouble.
Stormy weather caused seawater to flood a fish storage area, causing the ship to tilt and eventually sink. Crew members had tried to pump out the water.
A Sajo official told AP news agency that the ship captain had issued an order to abandon ship, and the crew is believed to have attempted to escape.
The seven found alive - a Russian, three Filipinos and three Indonesians - had used a lifeboat. A Korean man was found dead.
The 60-strong crew comprised 35 Indonesians, 13 Filipinos, 11 South Koreans and the Russian, an inspector.
Agencies reported that search and rescue workers had found between one and four lifeboats. AFP news agency quoted a Russian marine rescue official as saying they spotted one dead body floating in the area but could not recover it due to stormy weather.
South Korea's government officials convened an emergency meeting following news of the incident, and Prime Minister Chung Hong-won told a Cabinet meeting that they would work with Russia to speed up efforts.
He told reporters: "The unfortunate accident truly breaks my heart. Above all, I pray the deceased rest in peace and hope that the missing people are quickly rescued."
South Korea saw its worst maritime disaster in decades when the Sewol ferry sank in April killing more than 300 passengers.
It prompted an overhaul of the coast guard and the government has promised to tighten maritime regulations and ship safety checks.