Thailand King Bhumibol Adulyadej drops birthday appearance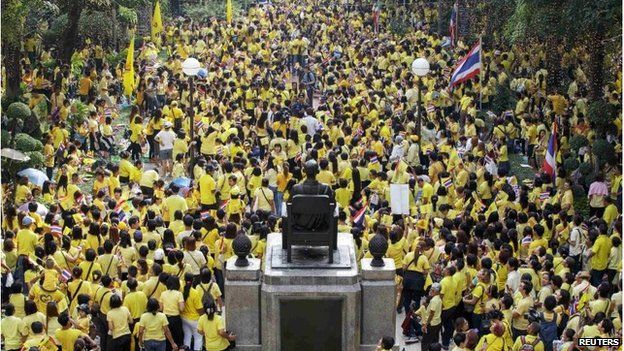 Thailand's King Bhumibol Adulyadej has cancelled a public appearance to mark his 87th birthday, on medical advice.
The news comes amid growing concern about the health of the king, who is highly revered by Thais.
Thousands of people had turned out in the capital, Bangkok, in the hope of seeing him at the Royal Palace.
Events are also being held across the country, which is still under martial law after the army ousted the government in May.
In a statement released on Friday, the king's office said doctors had examined the king and "agreed that he is not ready to grant a royal audience, therefore they have recommended he cancels royal activities".
King Bhumibol, the world's longest-reigning monarch, was last seen in public in November.
He has spent the past few months in hospital and recently underwent an operation to remove his gall bladder.
Crowds of supporters massed outside the hospital on Friday to wish him well.
"It doesn't matter whether he is appearing in front of a public audience or not. I'm just happy that I am here to show my loyalty to him. I'm happy no matter where he is," Thepwitoon Chim-Ngog told Reuters news agency.
Another woman, Kanchana Malaiporn, said: "I intended to come here no matter what. I'm happy to be part of this today."
There is deep affection for the king in Thailand, but the country is also governed by harsh lese majeste laws which punish any criticism of the monarchy with up to 15 years in prison.
King Bhumibol's heir is Crown Prince Vajiralongkorn, but the laws mean any discussion of succession is extremely sensitive issue, and many aspects cannot be reported from inside the country.
In late November, it emerged that the crown prince had asked the government to strip his wife's family of their royally-bestowed name.
The move is widely expected to be a first step to divorce - the couple were already known to be estranged.
The crown prince's order followed the arrest of seven of the princess's close relatives in a purge of officials allegedly involved in corruption.